The verdict is in – Tiong Bahru, with its quaint charm and old-world appeal, might just be the best place for cafehoppers to gather and start Instagramming en masse. Thanks to gentrification, trendy tenants have set up shop in the area, turning the oldest housing estate in Singapore into the hipsters' go-to for coffee and brunch. Check out our list of the best cafes in Tiong Bahru for a quick caffeine fix, a flaky bite, or a leisurely brunch – it's the java heaven you've been searching for!
1. Micro bakery & kitchen – New in 2023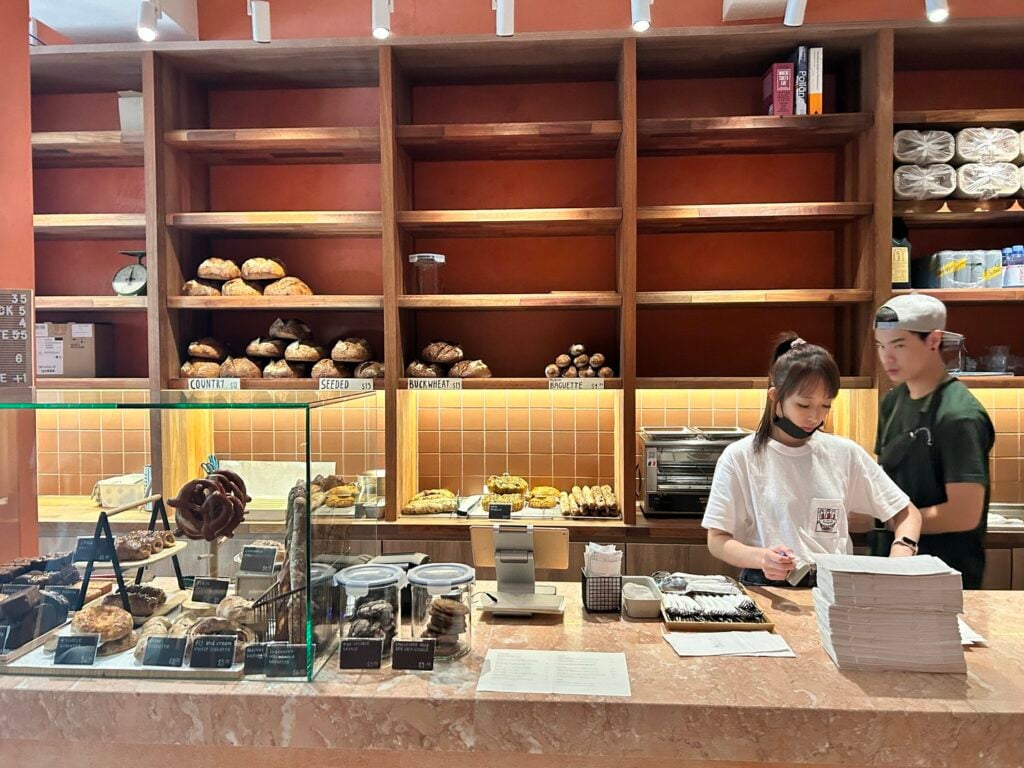 Weekends are made for brunchin', and if you're looking for a brunch spot, Micro Bakery & Kitchen is where it's at. This homegrown small-batch bakery recently opened its third branch in Tiong Bahru, taking over the former space of Forty Hands.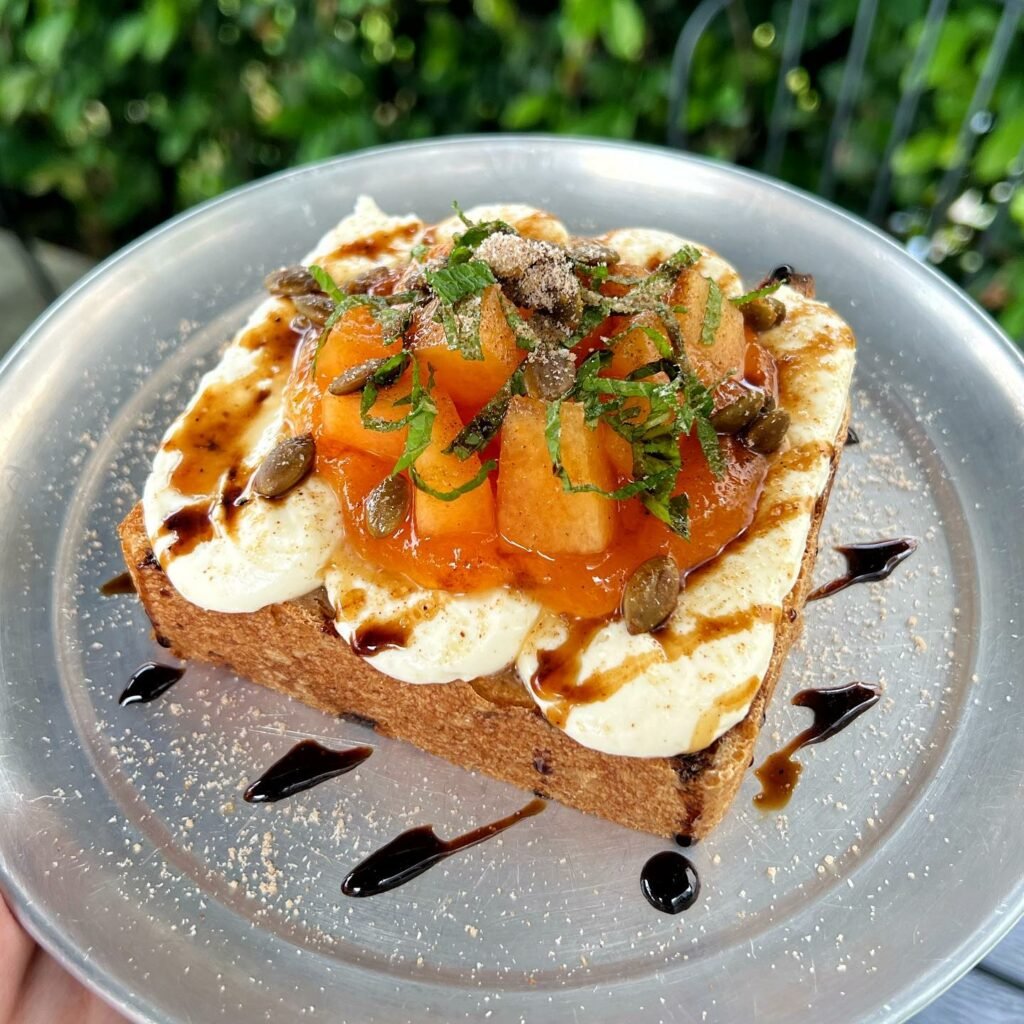 Micro is known for its hand-crafted sourdough, baked fresh daily, and they've added their own flair to the place by painting the interior red and adding a cute little window at the front. While this location has a different menu, some classics remain. Their all-day dining menu features must-try items like the signature Tomato Tartine ($16), Grilled 4 Cheese Sandwich ($16), and their seasonal Ricotta Toast. With fairly priced fresh pastries and coffee, this no-frills no-nonsense place is going to be Tiong Bahru's new rising star.
[Micro bakery & kitchen's menu]
Address: 78 Yong Siak St, #01-12, Singapore 163078 (Google Maps)
Opening Hours: 8 AM to 4 PM (Wed-Sun, closed Mon-Tues)
Website: https://www.microbakerykitchen.com/ 
2. The Butcher's Wife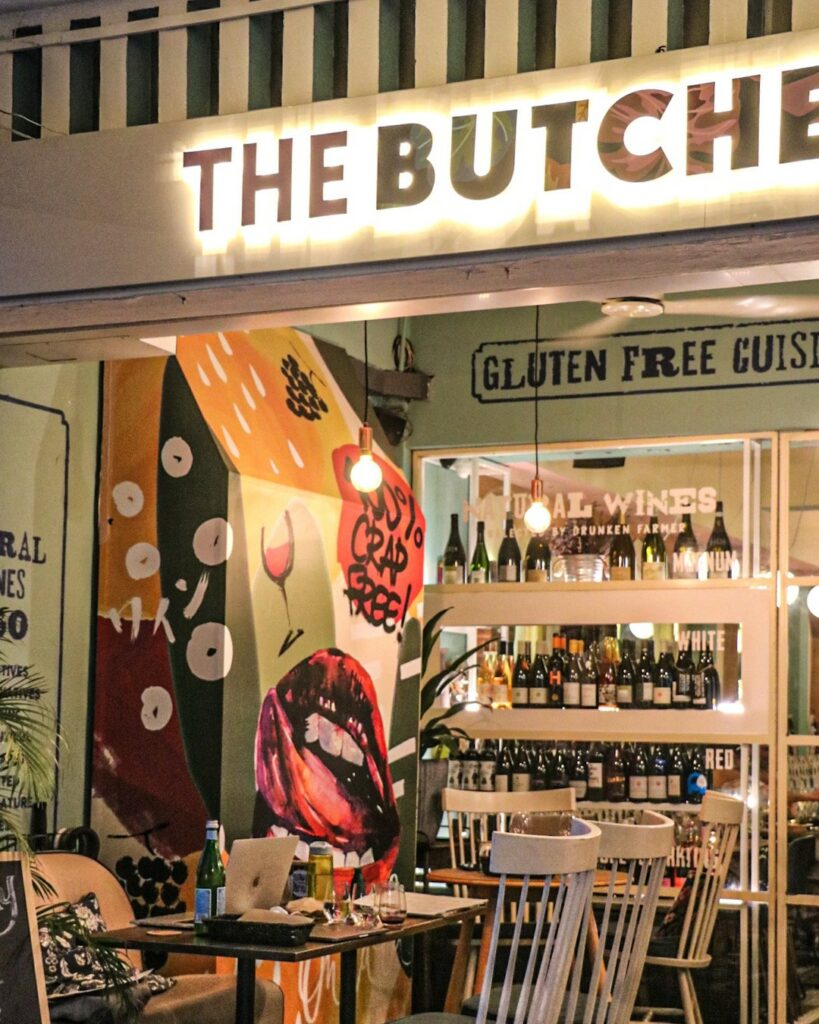 The Butcher's Wife, a European vegan-friendly foodie spot, is a safe space for all you celiac-intolerant people out there. This colourfully decorated natural wine bar and restaurant serves up delicious mains inspired by Brazilian, Spanish, and Greek cuisine, including the famous vegan The Wife's Croquetas ($14), the vegetarian Pão de Queujo ($12), and Sweet Potato Gnocchi ($26).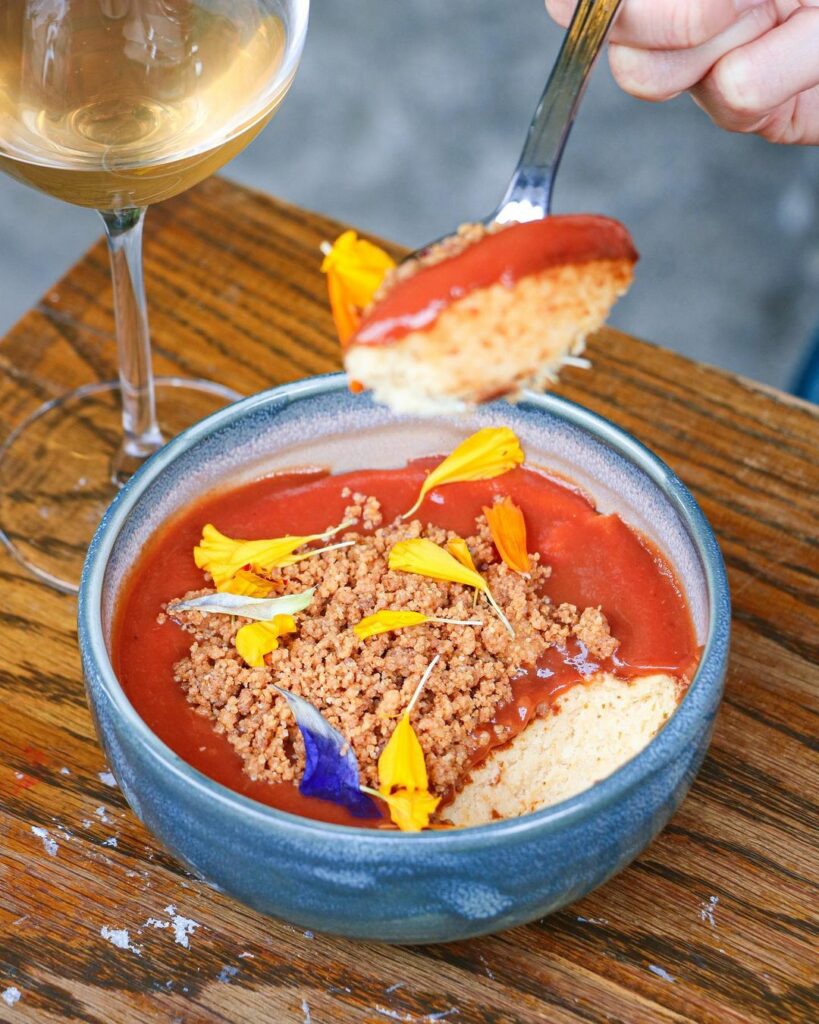 Our editor's favourite has to be their scrumptious desserts, which often have a refreshing twist. For example, the Romeo & Julieta ($16) is a cheesecake topped with a summary guava coulis and milk crumble, which pairs well with some home-fermented kombucha or coffee made with beans from Common Man Coffee Roasters. This spot is perfect for a big bougie brunch with your fancy friends.
Address: 19 Yong Siak St, Singapore 168650 (Google Maps)
Opening Hours: 12 PM-3:30 PM, 6 PM-11:30 PM (Tues-Fri), 11:30 AM-3:30 PM, 6 PM-10:30 PM (Sat-Sun)
Website: https://www.thebutcherswifesg.com/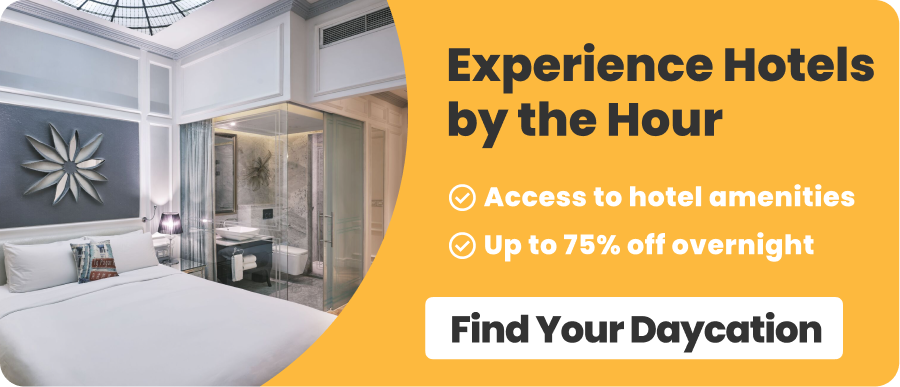 3. TIANN'S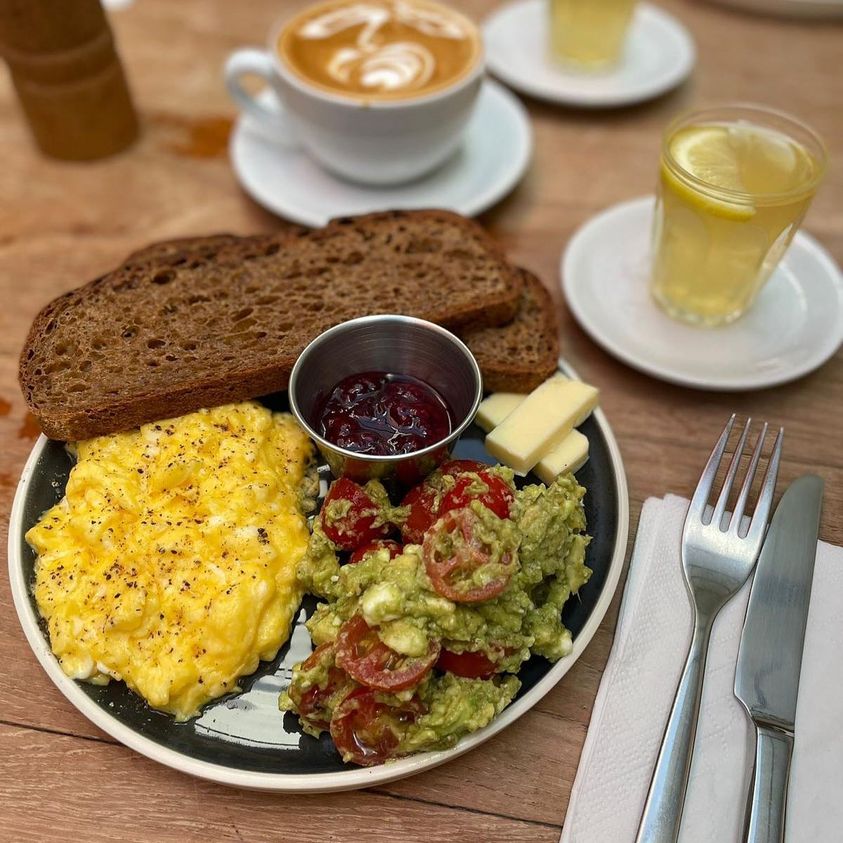 For a light lunch and caffeine boost, TIANN'S is another Tiong Bahru cafe specializes in gluten-free and sugar-conscious food options. This well-lit breakfast joint has a sunroof with natural lights shining on your gluten-free orders, and all other allergens (such as dairy and eggs) are clearly labelled on the menu.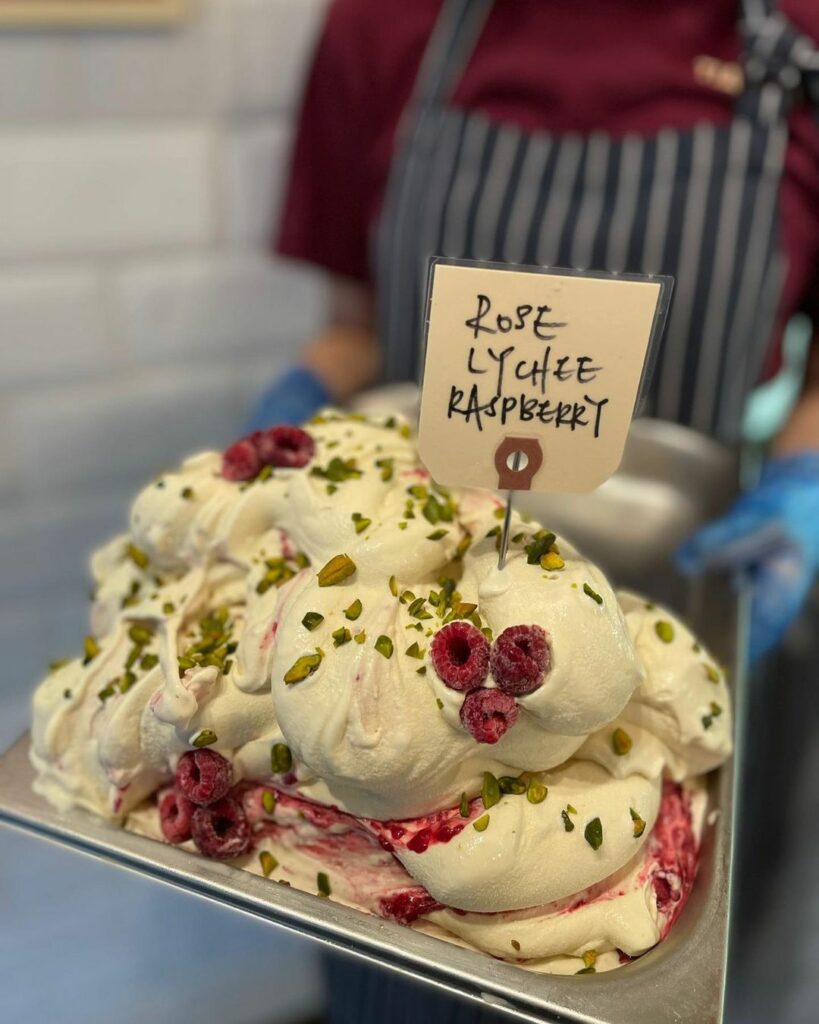 The cafe takes pride in serving healthy food made with natural, wholesome ingredients without refined sugars, allowing you to indulge without guilt. Be sure to try their signature yeast-free waffle, which has an airy texture that pairs perfectly with the more sinful toppings like French butter and organic maple syrup ($24) or a scoop of their luxurious gelato ($26).
Address: 71 Seng Poh Rd, #01-35, Singapore 160071 (Google Maps)
Opening Hours: 8 AM-5 PM (Tues-Sun), up to 10 PM on Fridays
Website: https://www.tianns.com.sg/shop 
4. Tiong Bahru Bakery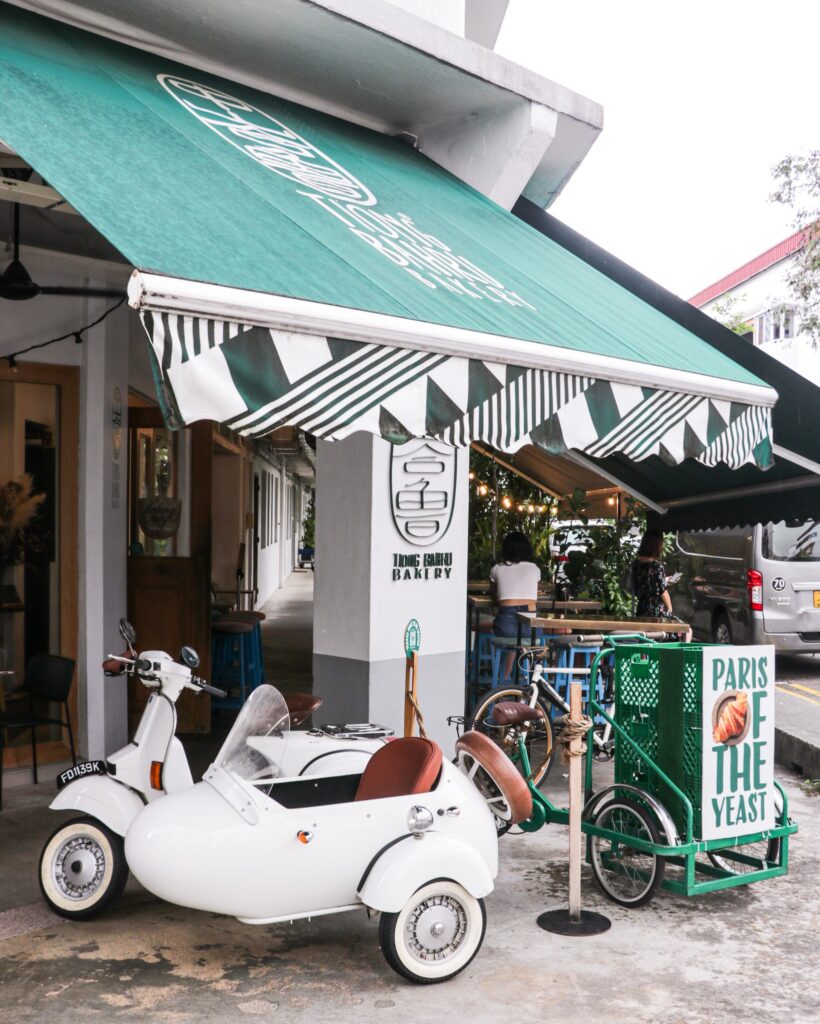 Fancy a freshly baked croissant? Then you need to head to Tiong Bahru Bakery – the ultimate neighbourhood hangout for French pastry lovers in Singapore. In addition to their perfected Classic Croissant ($4.80), the cafe also sells Pain au Chocolat ($5.40), a chocolate-filled croissant, and the signature Kouign Amann ($6.60), a crispy pastry coated in caramelized sugar.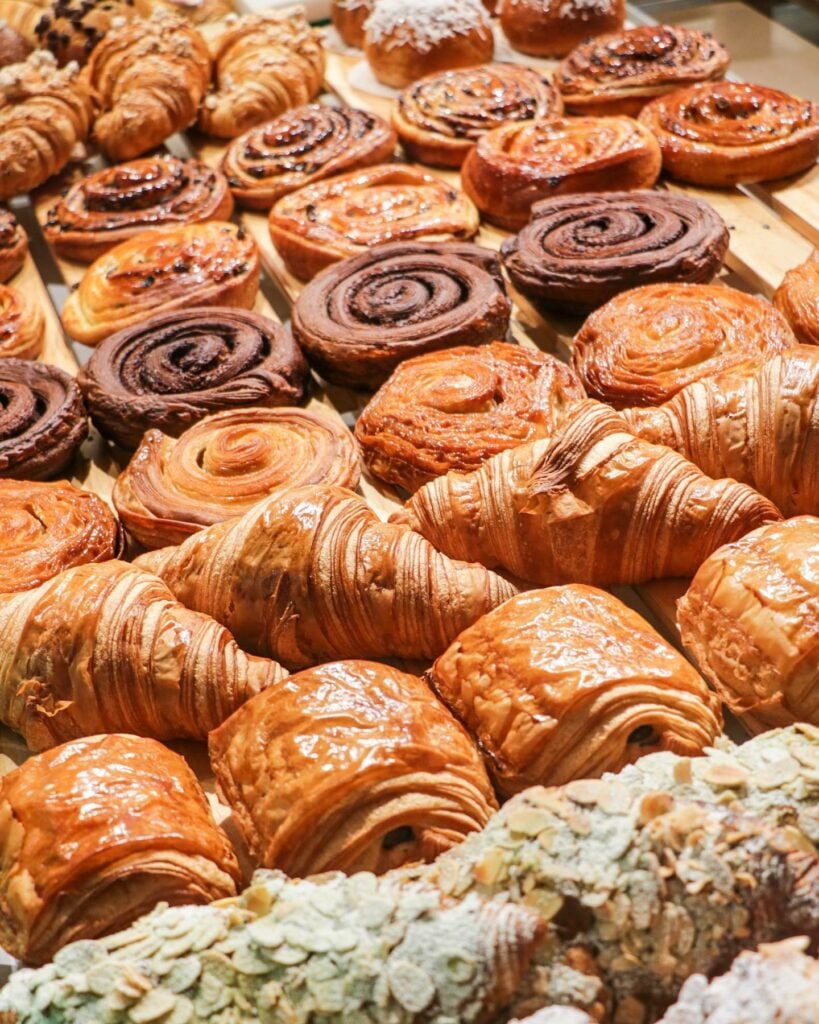 You can count on Tiong Bahru Bakery for the freshest flaky pastries in Singapore as they bake their treats every two hours. Sink your teeth in the finest pastries made from high-quality French flour and butter, and pair them with the perfect cup of coffee as the café uses coffee bean blends from Common Man Coffee Roasters.
Address: 56 Eng Hoon St, #01-70, Singapore 160056 (Google Maps)
Opening Hours: 7:30 AM to 8 PM (Daily)
Website: https://www.tiongbahrubakery.com/ 
5. Caffe Pralet By Creative Culinaire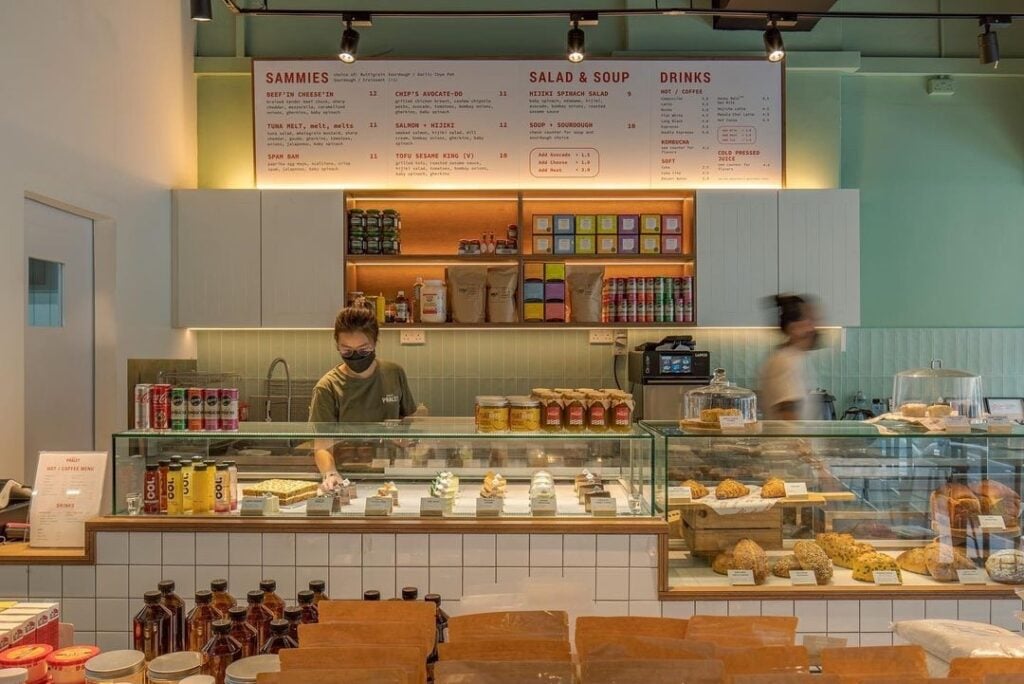 Caffe Pralet, a local favourite cafe in the Tiong Bahru neighbourhood, first opened its doors in 2006. Founded by the same individuals behind the adjacent baking academy, Creative Culinaire, this Tiong Bahru coffee shop has been a go-to breakfast and brunch spot for residents ever since.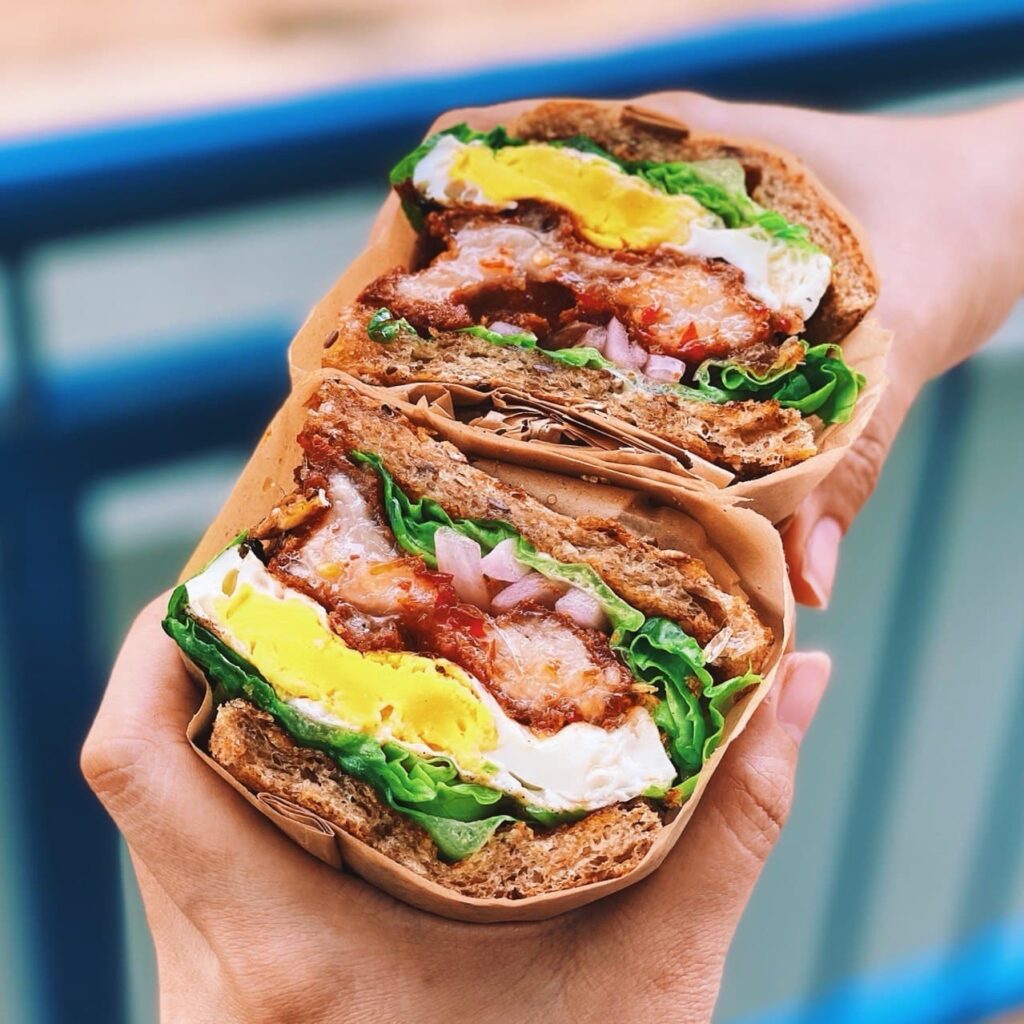 Caffe Pralet is best known for its flavour-packed gourmet sandwiches. There are eight sandos to choose from, including one vegan option. You can customize your sandwich with homemade bread such as Multigrain Sourdough, French Butter Croissant, and Garlic Chye Poh Sourdough.
One must-try is the signature Beef'in Cheese'in sandwich ($15.50) with tender braised beef chuck, perfectly complemented with sharp cheddar and mozzarella cheese. Another favourite is Cheeky Avocado ($14.50), featuring thick slabs of chicken and chipotle pesto. The sandwiches are generously filled, making for a hearty brunch. Shiok leh!
Address: 17 Eng Hoon St, #01-04 Eng Hoon Mansions, Singapore 169767 (Google Maps)
Opening Hours: 9 AM to 6 PM (Daily)
Website: https://caffepralet.com/ (Instagram)
6. Drips Bakery Café @ Tiong Bahru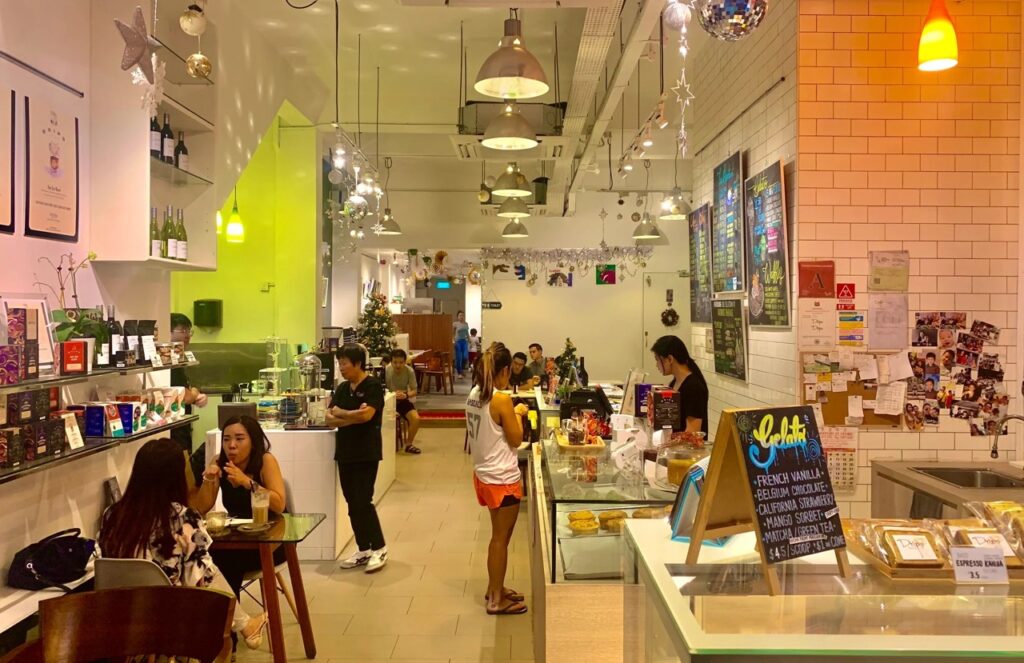 Photo: Drips Bakery FB
As much as we love a good sandwich, nothing beats a delicious dessert. That's where Drips Bakery Café comes in. Established in 2010, the team recently renovated and reopened its Tiong Bahru outlet. This artisanal café has managed to amass a cult following in Singapore thanks to its specialty baked tarts, both sweet and savoury, and other bakery picks.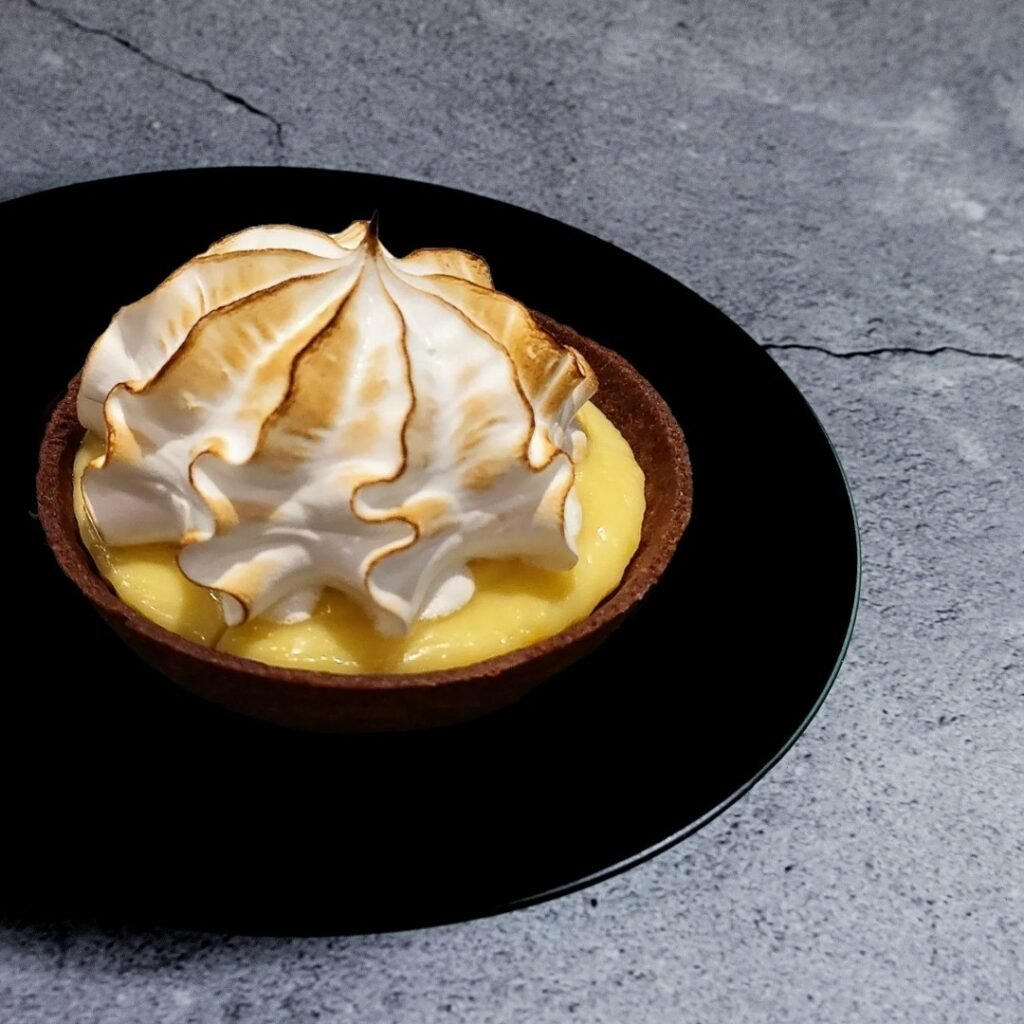 Their citrusy Lemon Meringue Tarts feature a velvety filling topped with a huge pillow of torched meringue, while the fresh avocado tarts are creamy and tangy. In for a sweet and boozy delight? The baked cherry brandy tart has a moist and rich filling that will perk you up after a long day.
If you're craving for more, try the Bonjour Breakfast. The mushrooms and bacon are such an iconic duo, and the aromatic sourdough is perfect for enjoying with a cuppa made from their Rocket Espresso's machine.
Address: 82 Tiong Poh Rd, #01-05, Singapore 160082 (Google Maps)
Opening Hours: 9 AM to 9 PM (Daily), up to 10 PM on Fri-Sat
Website: https://www.drips.com.sg/ 

7. PS Café Petit at Tiong Bahru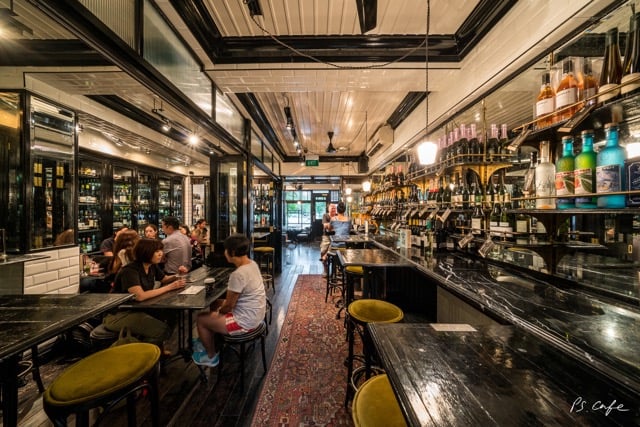 For those on the go who need a quick caffeine fix, PS Café Petit is a little hideout with a convenient takeaway concept. This petite and cozy version of the regular PS Cafe is reminiscent of a quaint Parisian cafe. It focuses on providing takeaway options, including freshly baked cakes and loaves, as well as more substantial items like burgers, pizza, and wraps to go.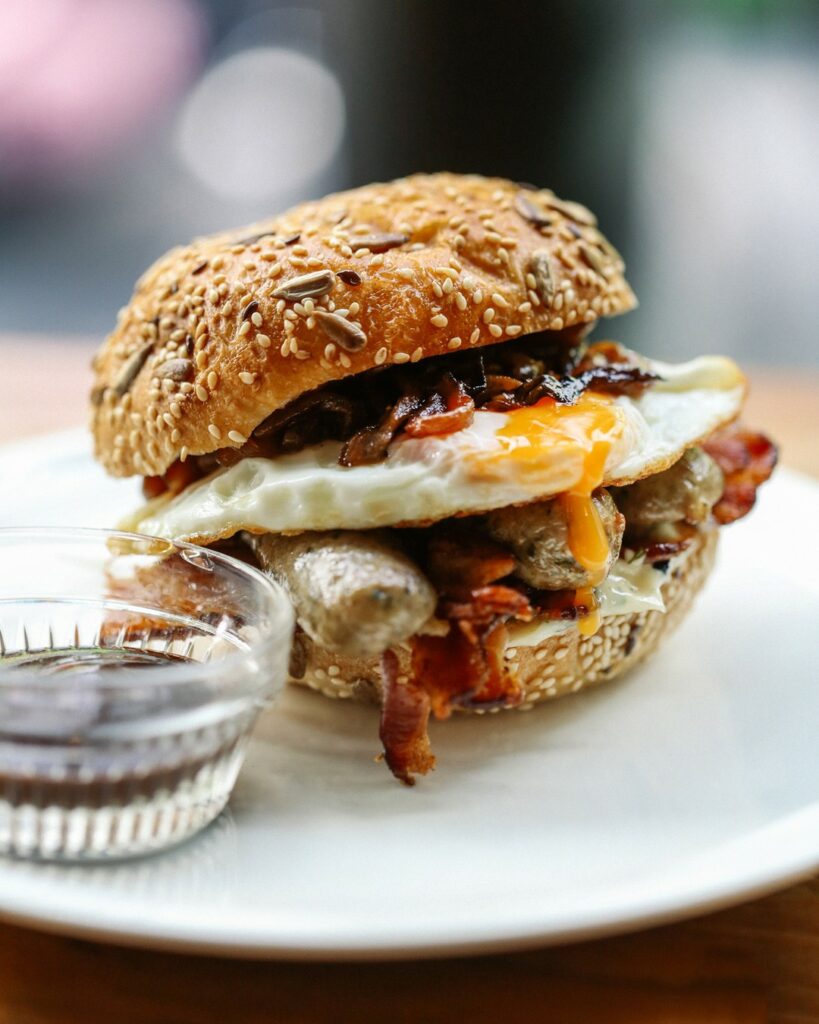 In addition to its coffee and food offerings, PS Café Petit is a cool little hole-in-the-wall wine bar that boasts an impressive and affordable selection of wines on display. You can enjoy a variety of wines and champagne by the glass on the spot or purchase bottles to take home. Whether you are sampling the creamy Carbonara Pizza ($32.50) covered in pancetta or the Breakfast Grand Slam Bunwich ($19.50), sipping on a glass or two (or three) of their house pours is a must.
Address: Blk 78 Guan Chuan St, No. 41, Singapore 160078 (Google Maps)
Opening Hours: 10 AM to 10:30 PM Daily (opens 9 AM Sat-Sun)
Website: https://www.pscafe.com/pscafe-petit-at-tiong-bahru/ 
8. FLOCK CAFÉ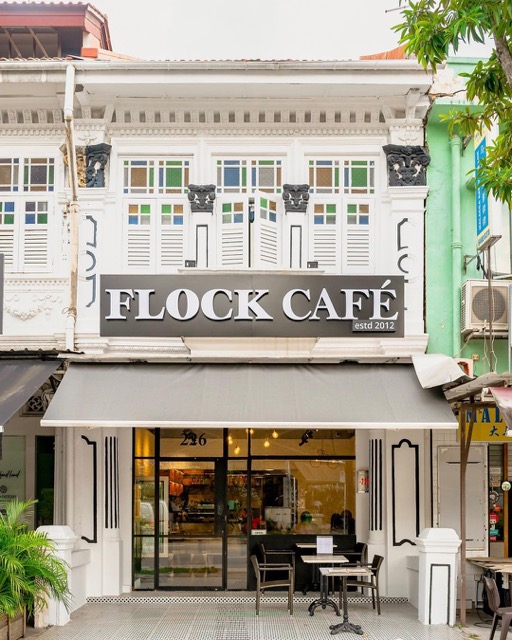 Flock Café is a rustic family-run brunch spot hidden away from the main road with minimal signage at the famous Horse-Shoe block along the Tiong Bahru heritage trail. Despite the tight space, the café boasts a relaxed ambience with adequately sized tables, including a large communal table at the front. Outdoor seating is pet-friendly and surrounded by lush greenery.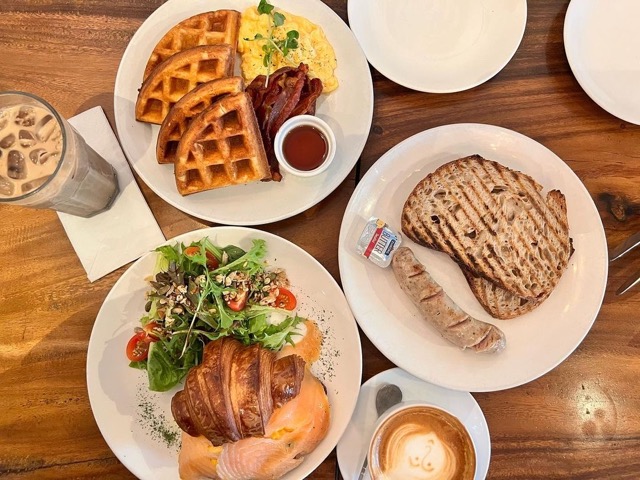 The café serves casual Western breakfast fare and coffee made with beans from Liberty Coffee, and the breakfast menu is available all day. Must-tries include the Brioche French Toast and the well-seasoned and dressed Pork Cheek Burger. The menu includes pasta, paninis, hearty classics, and a variety of smoothies, frappes, and fresh juices, for those who are on a health kick.
Address: 01-25 Tiong Bahru Estate, Moh Guan Terrace, Block 78 (Google Maps)
Opening Hours: 8 AM to 8:30 PM (Daily)
Website: http://flockcafe.com.sg/ (Instagram)
9. Plain Vanilla Tiong Bahru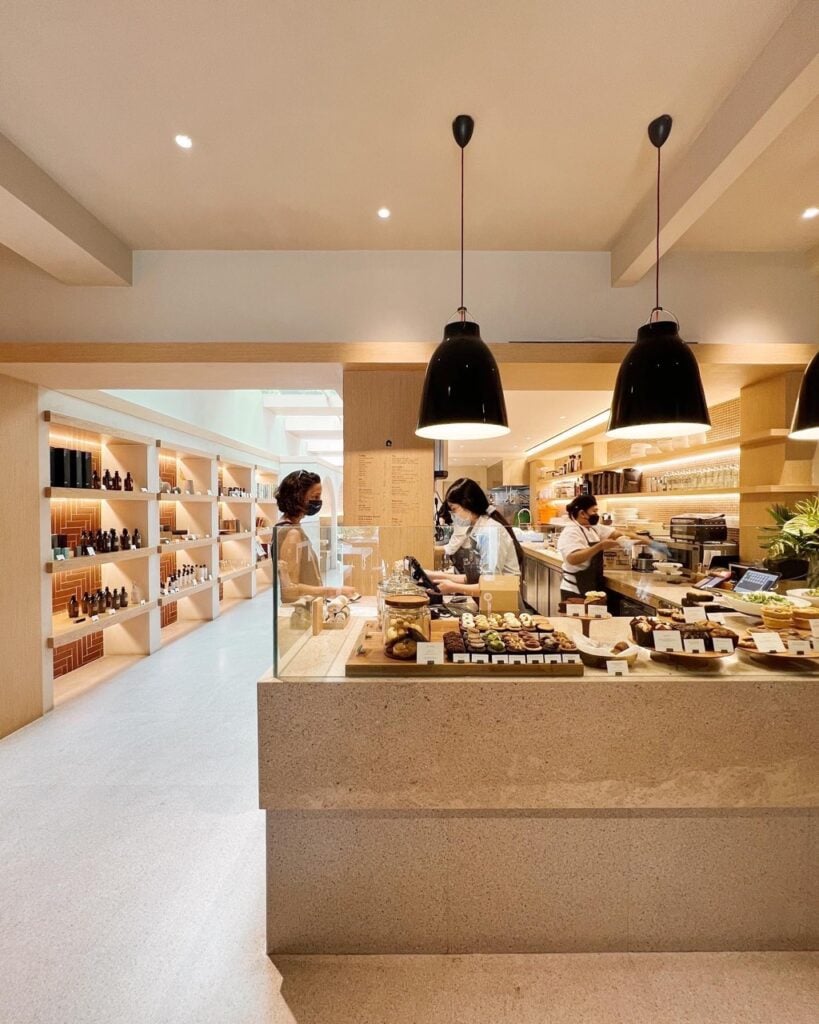 Plain Vanilla's Tiong Bahru is both the flagship store and an extension of the homeware brand Plain Vanilla Home. This location offers the largest selection of bakes, including a daily brunch menu. It is a paradise for people with a sweet tooth, with a wide selection of cupcakes on display. The cupcakes are moist without being overly sweet, and the frosting just melts in your mouth.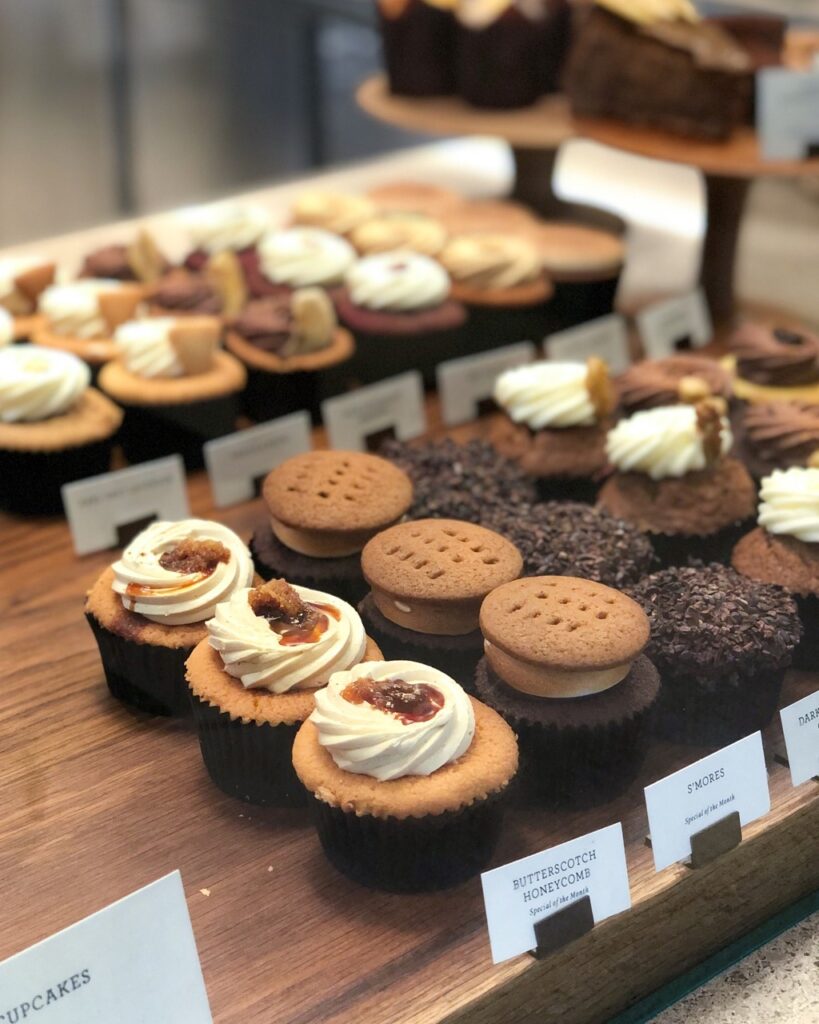 The store boasts a clean and minimalist decor with a large shaded outdoor seating area at the front and a few table booths tucked away inside. It is a pretty space perfect for your Instagram's #cafehopping series and is well-curated with ample parking. Come here to enjoy chill vibes while relishing the delicious brunch and coffee made using beans from Allpress Espresso.
Address: 1D Yong Siak St, Singapore 168641 (Google Maps)
Opening Hours: 7:30 AM to 7 PM (Daily)
Website: https://plainvanilla.com.sg/ 
10. Monument Lifestyle at Tiong Bahru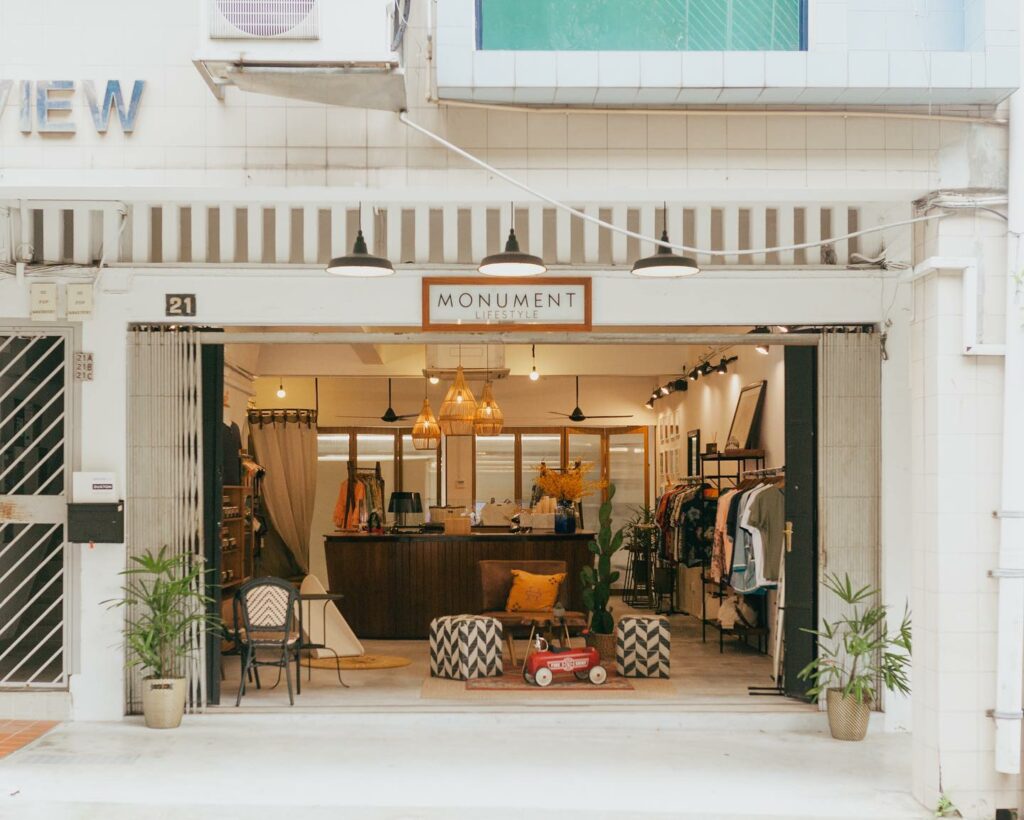 Monument Lifestyle is where you go for coffee, bagels, and retail therapy. This lifestyle cafe which debuted along Duxton Road has recently opened its second outlet in Tiong Bahru. Half of the space is allocated to the cafe, while the other half is a marketplace where the owners stock items from local designers, changing them up seasonally.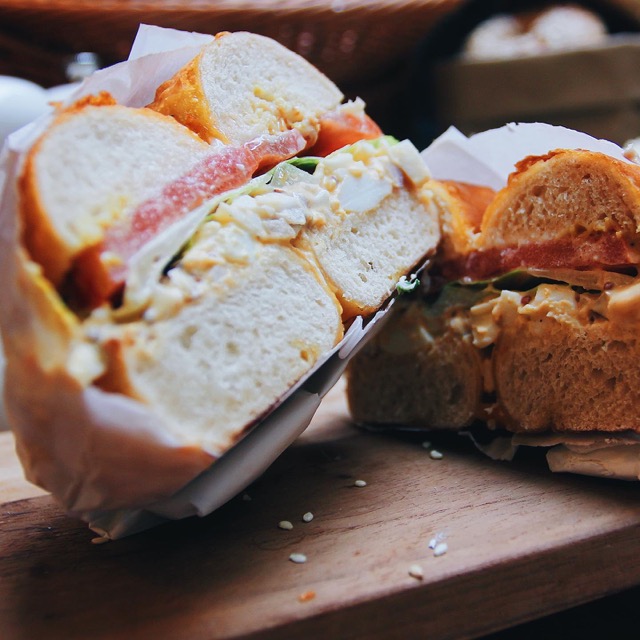 The coffee shop uses coffee beans flown straight from San Francisco Coffee Roasters to give you a taste of their former hometown, California. Monument is also well-known for its New York-style bagels, hand-rolled, kettle-boiled, and baked fresh daily by Schmear. Try their signature Smoked Salmon Bagel Sandwich for the perfect mix of chewiness, savoury goodness, and just the right amount of crunch.
Address: 21 Yong Siak St, Singapore 168651 (Google Maps)
Opening Hours: 8 AM to 6 PM (Mon-Fri), 9 AM to 6 PM (Sat-Sun)
Website: https://monumentlifestyle.com/ (Instagram)
11. MERCI MARCEL TIONG BAHRU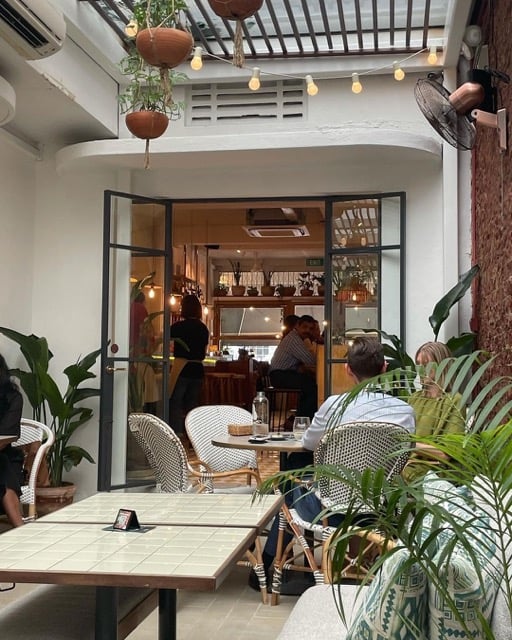 Photo: Merci Marcel FB
Looking for a whimsical brunch experience? Check out Merci Marcel, located right next to Tiong Bahru Bakery. This charming Tiong Bahru bistro exudes a hipster French Balinese vibe, featuring a sun-lit glasshouse garden terrace, a main dining area with vibrant citrus tones and mustard mosaic tile flooring, and a small courtyard at the back lit by twinkling fairy lights. It's an affordable and enjoyable place to relax and snap some Instagram-worthy photos.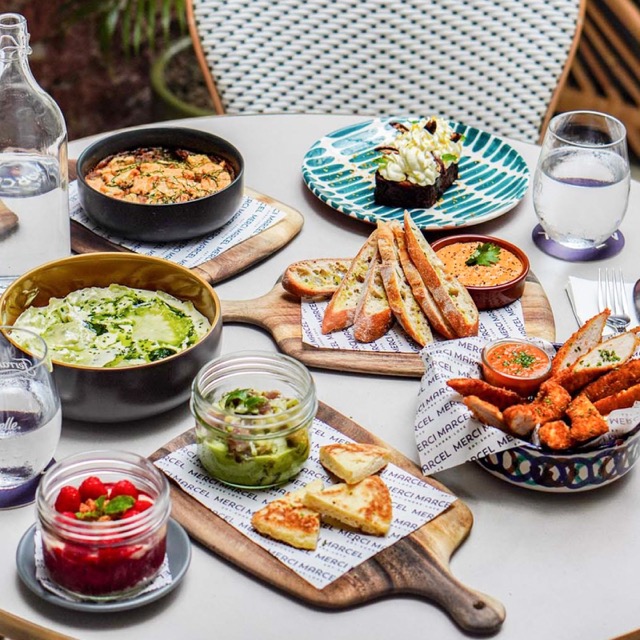 Aside from the stunning decor, Merci Marcel is a solid French spot with lots of breakfast and lunch options that add contemporary touches to traditional dishes. The breakfast assortment platter ($22) is perfect for sharing, and their Raviolis ($20 small, $32 large) and Tarte Flambée ($27) make a killer combination.
Address: 56 Eng Hoon St, #01-68, Singapore 160056 (Google Maps)
Opening Hours: 8 AM to 12 AM (Mon-Sat), up to 11 PM on Sun
Website: https://mercimarcelgroup.com/ (Instagram)
12. Prive Tiong Bahru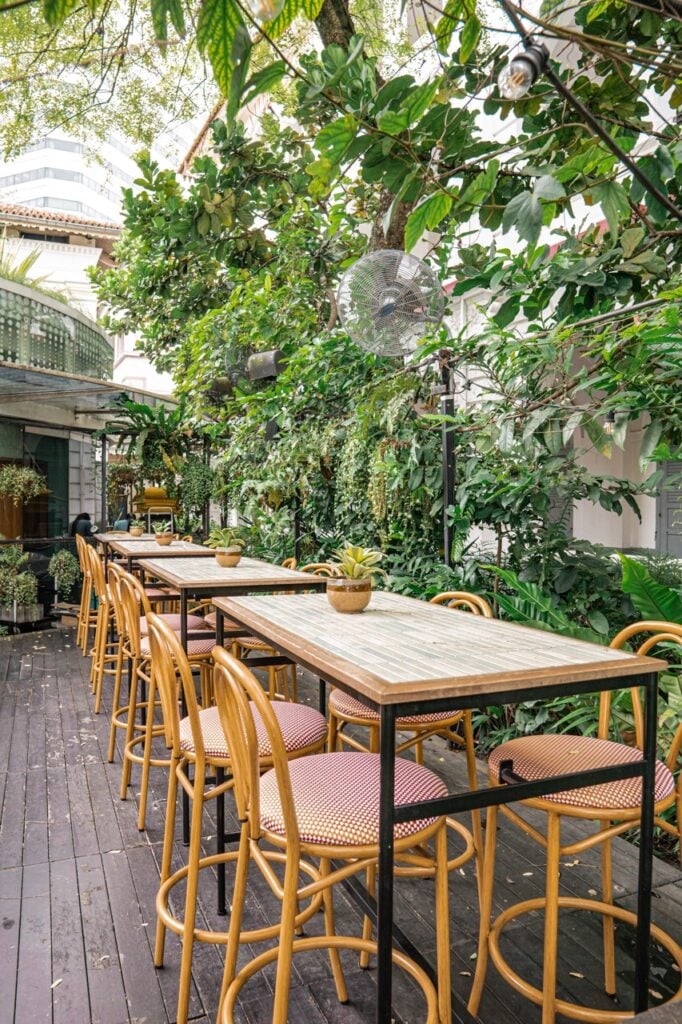 Photo: Prive FB
Located opposite the main market in Tiong Bahru, Privé is a popular cafe that offers an extensive kid-friendly menu, catering to all tastes, and a pet-friendly back area. It's a great spot for families with little ones and fur babies to enjoy a lovely weekend lunch.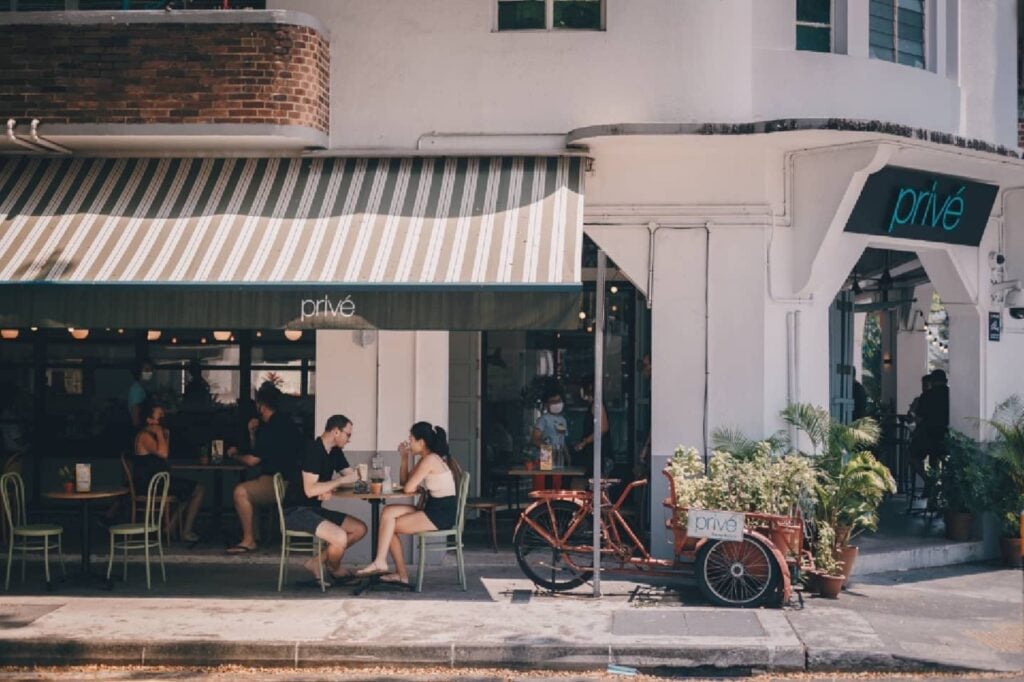 Privé is a vegan-friendly cafe with many plant-based options clearly labelled on the menu, including Avocado Toast ($21) served with pomegranate, pumpkin seed dukkah, chipotle-cumin hummus, and mesclun, as well as vegan Croissants ($6.80) which are hard to come by in other cafes.
Address: 57 Eng Hoon St, #01-88, Singapore 160057 (Google Maps)
Opening Hours: 8 AM to 10:30 PM (Daily)
Website: https://www.chope.co/singapore-restaurants/restaurant/prive-tiong-bahru 
13. Creamier Handcrafted Ice Cream and Coffee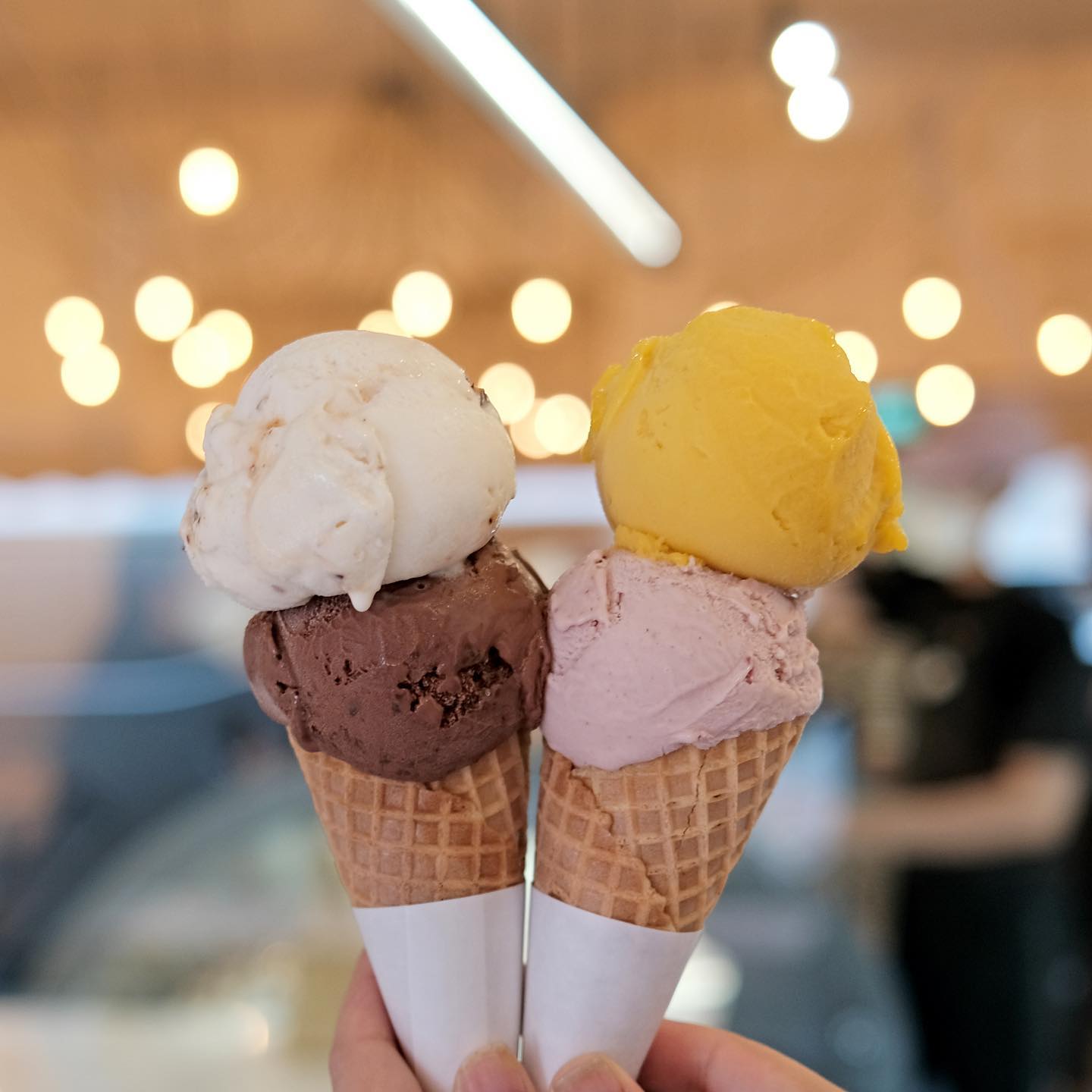 Photo: Creamier FB
Cap off your day of cafehopping with some premium ice cream from Creamier cafe. This Tiong Bahru cafe has an irresistible aroma of freshly made waffles that will lure you right in. Enjoy a scoop of ice cream on top of their made-to-order waffles on a hot summer day – this is how life should be lived.
Their popular Earl Grey Lavender ice cream ($4.30 for a single scoop, $7.30 for a double scoop) is sweet, floral, and well-balanced. Feeling a bit more adventurous? Go for the Sea Salt Gula Melaka for a local twist that pairs well with their waffles ($10.90 for waffles + standard flavour single scoop of ice cream). And if you're a fan of classics, the Speculoos Cookie and Rum and Raisin flavours will never disappoint.
Address: 78 Yong Siak St, #01-18, Singapore 163078 (Google Maps)
Opening Hours: 1 PM to 10 PM (Mon-Fri), 12 PM to 12 AM (Sat), 12 PM to 10 PM (Sun)
Website: https://creamier.com.sg/ 
---
Saving these places for later? Access our list on Google Maps ➡️
---
Related Articles:
✏ Best Cafes in Tanjong Pagar: for brunch, coffee, and aesthetics
✏ Equate Coffee: Discover the Best Caneles in Singapore at This Industrial Chic Cafe
---
What is so special about Tiong Bahru?
The Tiong Bahru neighbourhood is hip and trendy. It is steep in history but has been transformed because of the addition of modern cafes, restaurants, and bars in the area.
Why is Tiong Bahru Bakery famous?
The Tiong Bahru Bakery is famous for its kouign amann pastries, artisanal bread and coffee. In addition, they specialize in local flavours and quirky recipes.
What are some new brunch spots in Tiong Bahru?
Micro bakery & kitchen (new Tiong Bahru outlet in 2023), Drips Bakery Café (newly renovated), and Monument Lifestyle (new Tiong Bahru outlet in 2022) are some of the new cafes in Tiong Bahru serving brunch options.
---
Our reviews and recommendations are honest and not influenced by compensation or sponsorship. We do not receive payment or free products for positive reviews, unless stated otherwise. Any compensation or products received for reviews will be disclosed in the relevant post.