Navigating Singapore's nightlife scene in search of an LGBTQ+-friendly bar can be pretty daunting with limited options, as homosexual acts were only legalized last year. Despite the challenges, we've scoured some fabulous gay clubs and gay bars in Singapore that offer a welcoming and safe space for the community to relax and socialize with like-minded individuals. Time to put on your dancing shoes and discover the rainbow scene in town!
Taboo Singapore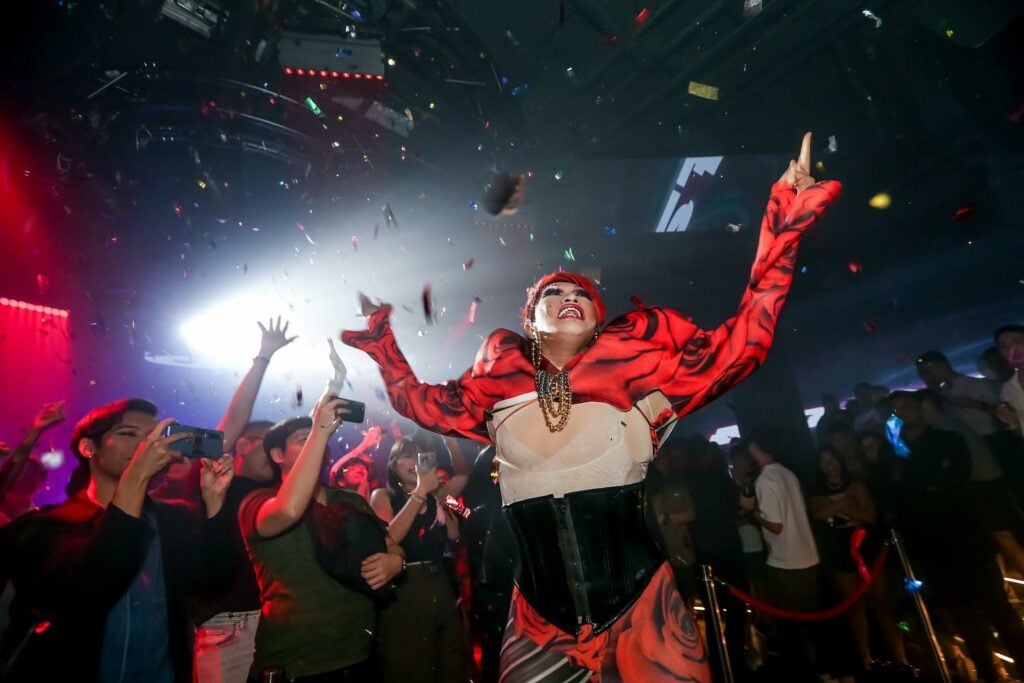 Taboo Club has been an iconic fixture of Singapore's LGBTQ scene since 1997 and has come a long way. This legendary gay dance club has now transformed into a gay-friendly cafe. At the new location in Duxton, Chinatown, Taboo teams up with the home business Haoke and home dining brand f've to serve up Hakka food and Peranakan cuisine. On weekends, Taboo Club becomes a bustling hotspot, with the dancefloor packed with energetic bodies swaying to the rhythm of popular remixes. It's the perfect meeting place for gay singles and couples to let loose.
Address: 80A Neil Rd, Singapore 088842 (Google Maps)
Opening hours: Tue – Sat 6:30pm – 12am; Closed on Mon & Sun
Tantric Bar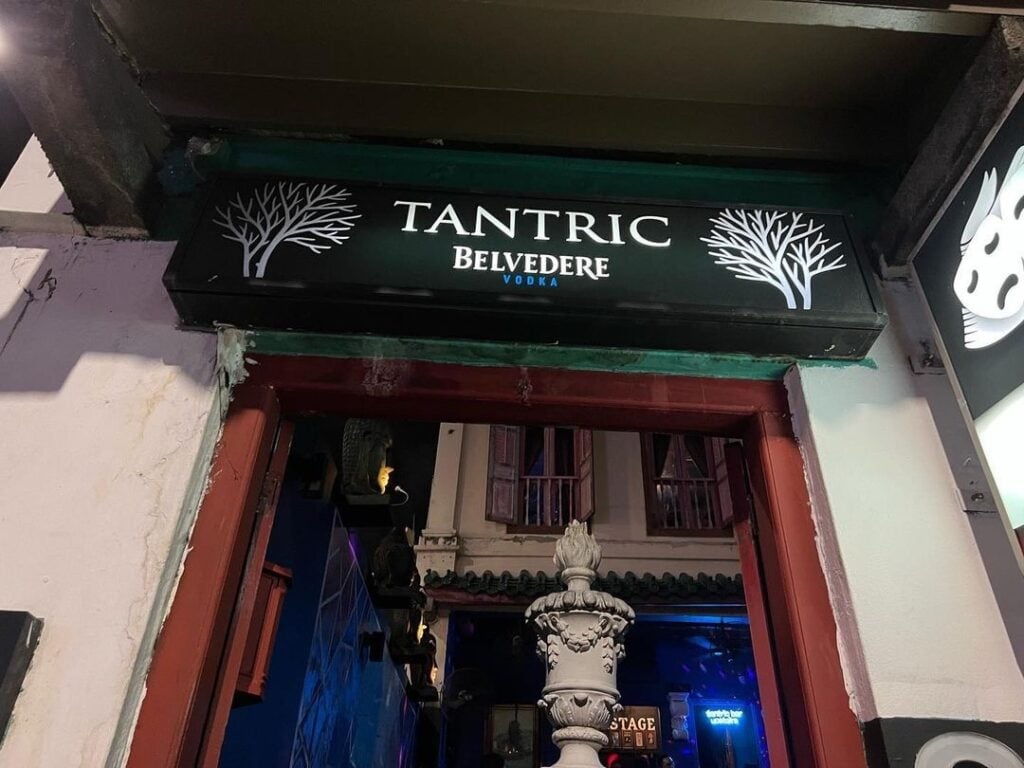 Tantric Bar in Chinatown is a classic gay-owned and managed bar buzzing with party boys guzzling cocktails before hitting Taboo. Tantric boasts all the essential elements that keep the LGBTQ+ crowd returning. During the week, the courtyard is the perfect spot to chill out and relax, but it's a whole different ball game on Friday and Saturday when the dancefloor is packed to the brim with revellers enjoying delicious cocktails and double-shot house pours. The open courtyard and packed dancefloor make Tantric the signature party hotspot for the gay community. With upbeat pop tunes filling the air and drinks flowing, you'll be spinning like a top in no time.
Address: 80A Neil Rd, Singapore 088842 (Google Maps)
Opening hours: Daily 8pm – 3am
Website: https://www.homeofthebluespin.com/tantric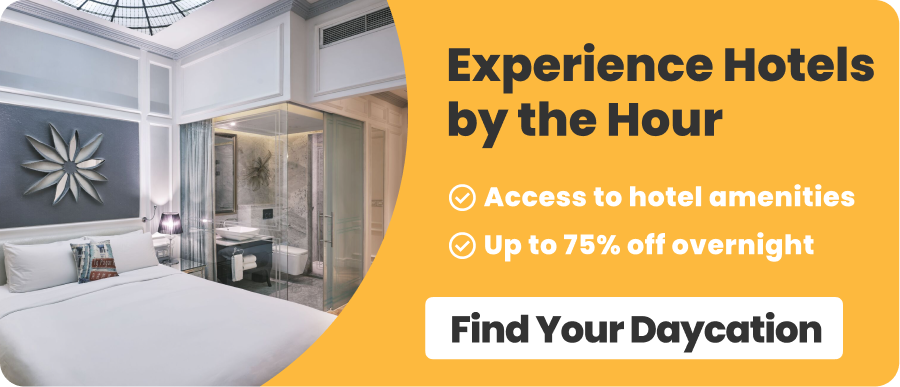 May Wong's Café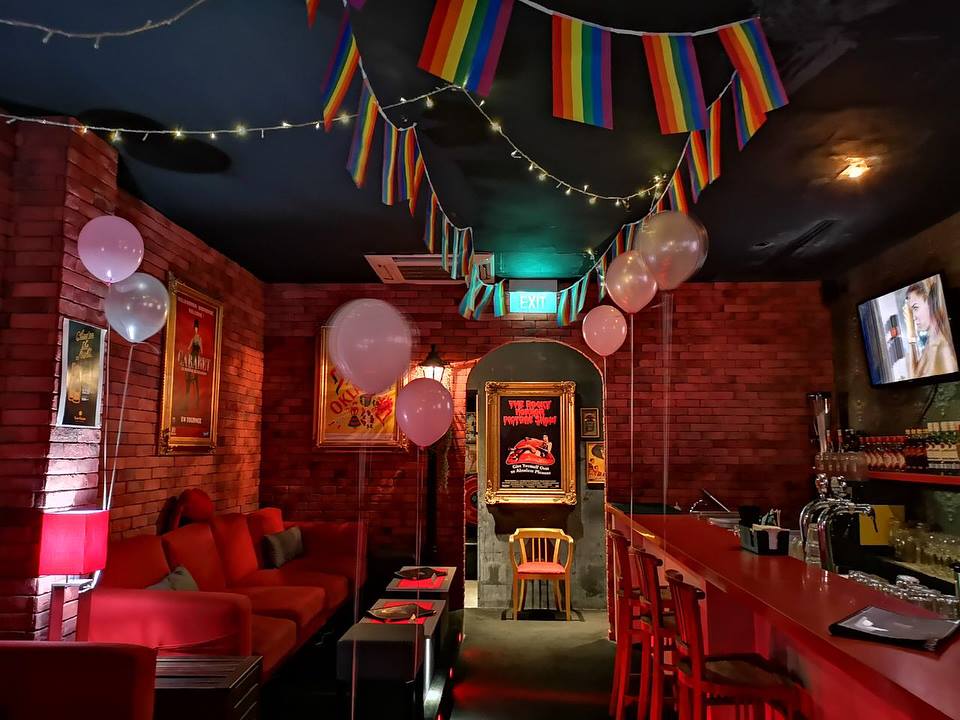 May Wong's Café on level 2 of the Chinatown shophouse as Tantric is a warm and inviting gay bar paying homage to the first Asian American actress to become an international star. You can sink into the comfortable sofas, play darts, and pool while enjoying a more laid-back and inviting atmosphere than its ground-floor counterpart.
The décor is a nod to May Wong's illustrious career, featuring numerous photos and film memorabilia that'll transport you back in time. And with an affluent gay clientele, you can rest assured that the vibe is classy and sophisticated.
Address: 80A Neil Rd, Singapore 088841 (Google Maps)
Opening hours: Daily 8pm – 3am
Website: https://www.homeofthebluespin.com/maywongscafe

Backstage Bar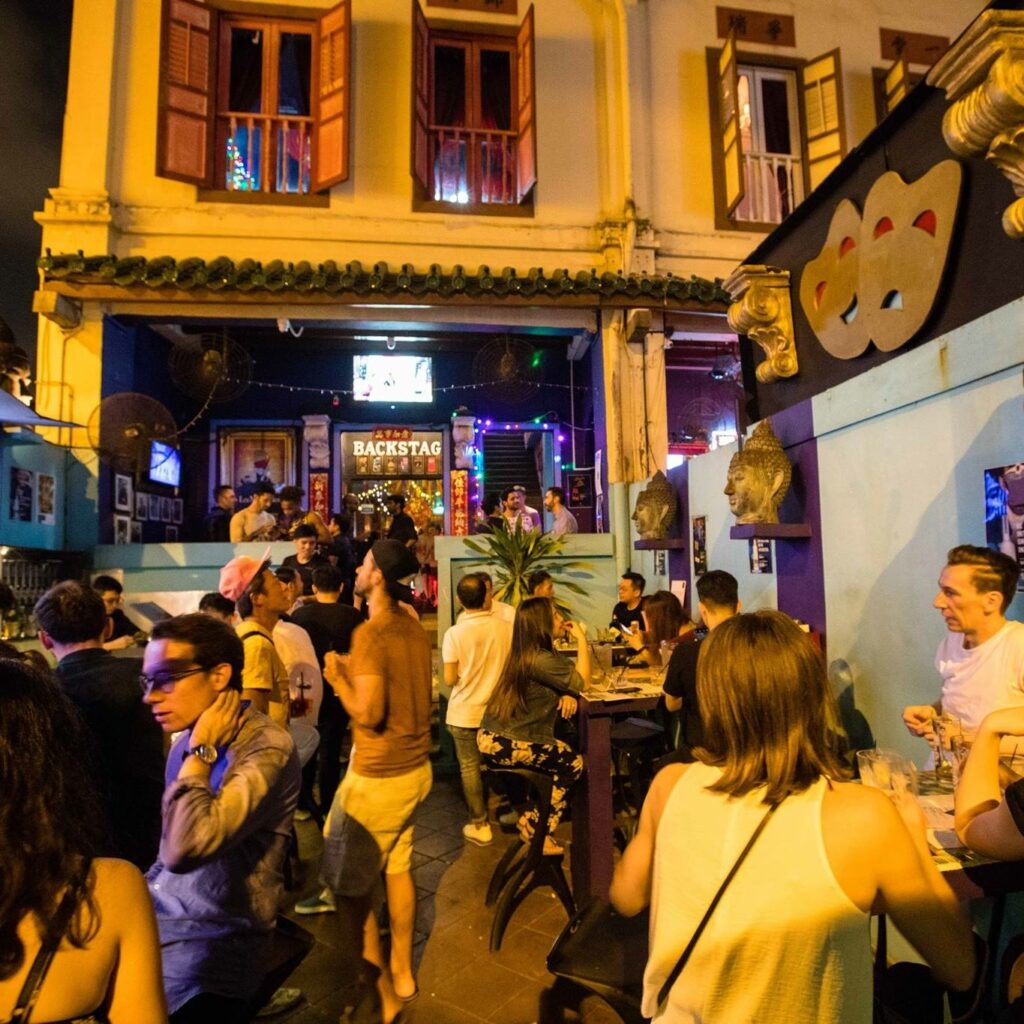 Just next door to Tantric, you'll find the Backstage Bar waving its rainbow flag proudly above the entrance. This trendy LGBTQ+ bar has indoor and outdoor areas that are perfect for socializing and chilling out, drawing in a diverse crowd of locals and expats alike.
Backstage Bar is playfully campy, with walls adorned with semi-nude male pictures and musical-theatre posters that add to the playful and flirtatious atmosphere. As the night progresses, this trendy gay bar turns up the heat with lively tunes that will get you grooving in no time. You can access the bar through its entrance on Teck Lim Road or via Tantric Bar.
Address: 80 Neil Rd, Singapore 088842 (Google Maps)
Opening hours: Daily 8pm – 3am
Website: https://www.homeofthebluespin.com/backstagebar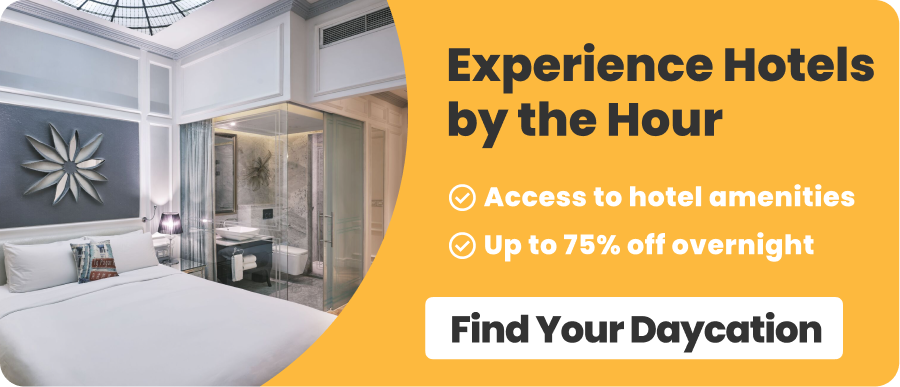 Dorothy's Bar
Make your way down the yellow brick road to Dorothy's Bar, also in Chinatown. With its sizeable L-shaped terrace, you can cosy up inside or enjoy the fresh air outside, all while taking in the local culture and unmatched views of the bustling Chinatown streets.
Dorothy's is a more laid-back option for those not seeking an electrifying dance night out. The atmosphere is conducive to conversations with friends or a lucky stranger and encourages inclusivity. They host themed nights that are sure to impress, offering a wide range of cocktails, beers, and wines. And word on the street is that they have the most potent drinks in town – so buckle up!
Address: 13A Trengganu St, Singapore 058467 (Google Maps)
Opening hours: Mon – Wed 6pm – 1am; Thu – Sun 6pm – 2am (Sunday opens at 3pm)
Website: https://www.facebook.com/DorothysSingapore/

Lluvia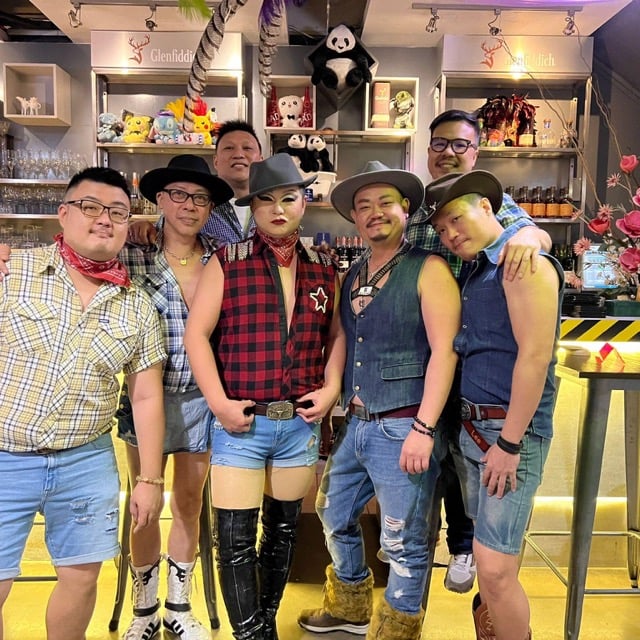 Located in the heart of Chinatown, Lluvia (meaning 'rain' in Spanish) is a must-visit karaoke bar for bears, their chasers, and friends in Singapore. You can belt out your favourite tunes or chill with your buddies. With its lively atmosphere, thrilling drag show entertainment, and friendly clientele, Lluvia is the ultimate destination for a night out that's anything but average. Who knows, you might even unleash your hidden diva while you're there! Additionally, Lluvia boasts a packed calendar of special events, making it the perfect place to let your hair down and have some fun.
Address: 145 Telok Ayer St, 145, Singapore 068605 (Google Maps)
Opening hours: Thu – Sun 7pm – 12am; Mon, Wed 7pm – 12am; Tue Closed; Fri, Sat 7pm – 2am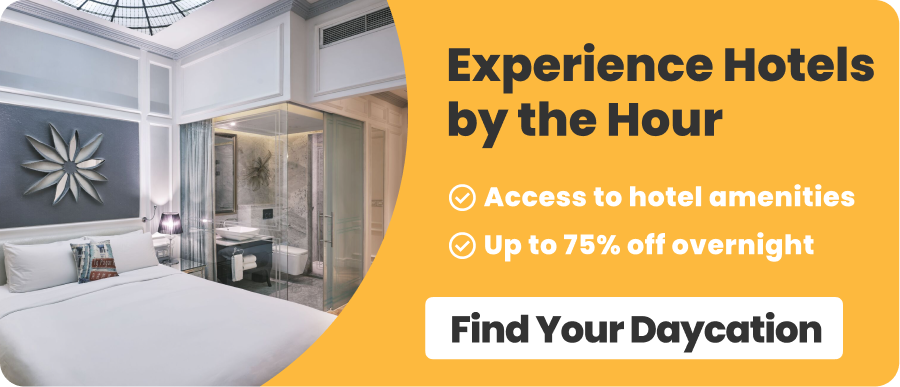 Neil's Conversion Clinic – New in 2022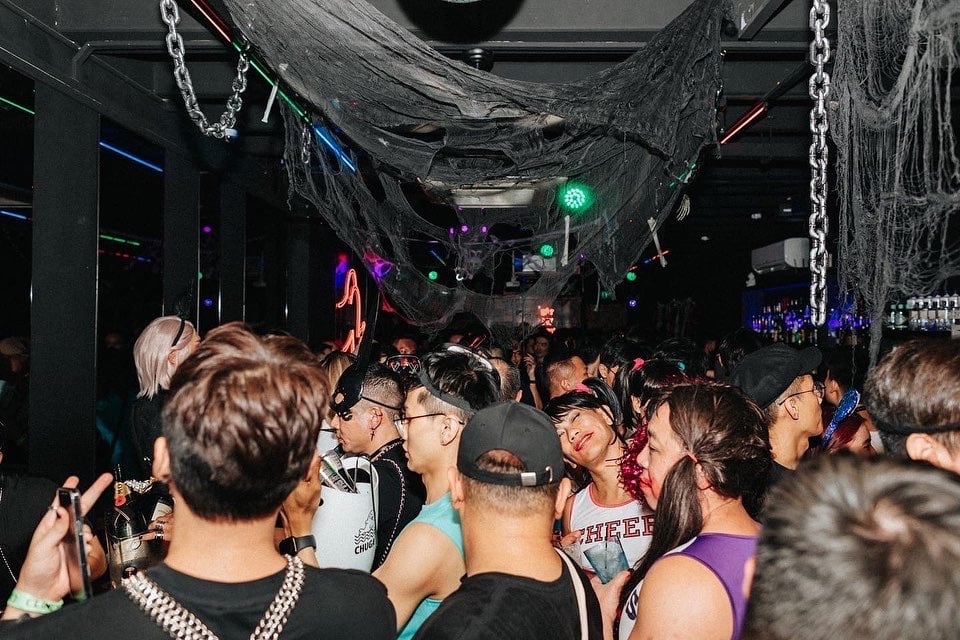 Neil's Conversion Clinic is a speakeasy bar that went viral on TikTok when it first opened. The gay bar appears from the outside to be a homosexual conversion clinic, poking fun at the absurdity of the concept. The façade actually houses an LGBTQ-friendly bar and club that boasts one of the liveliest gay scenes among younger generations, with many Y2K-themed nights celebrating iconic gay idols that are sure to make millennials nostalgic. The place is rowdy, campy, and kitschy, making it all the more reason for thrill-seekers to visit!
Address: 43 Neil Rd, Singapore 088825 (Google Maps)
Opening hours: Wed/Thu/Sun 7pm – 12am; Fri 8pm -1 am; Sat 8pm – 2am
Website: https://www.instagram.com/conversionclinic.sg/
---
Saving these places for later? Access our list on Google Maps ➡️
---
Related Articles:
✏ Best Bars to Visit in Clarke Quay: Lion City's Nightlife Guide
✏ Try These Best Upscale Rooftop Bars in Singapore before the Year Ends
✏ Sip and Save: Best Affordable Rooftop Bars in Singapore
---
What are the best gay-friendly bars in Singapore?
Gay bar and gay club options are very limited in Singapore. Some iconic fixtures include Taboo, Tantric, and Backstage Bar in Chinatown. (Full article)
Are there any drag shows at gay bars in Singapore?
Most gay bars in Singapore host drag show performances from time to time. Before visiting, you can check out the venue's social media for any upcoming events.
Are there any alternative nightlife options for the LGBTQ+ community in Singapore besides gay bars?
There are gay saunas in Singapore, but the options are also quite limited.
Do gay bars in Singapore have age restrictions?
The legal drinking age in Singapore is 18 years old, and many gay bars require patrons to be at least 18 or 21 years old to enter.
---
Our reviews and recommendations are honest and not influenced by compensation or sponsorship. We do not receive payment or free products for positive reviews, unless stated otherwise. Any compensation or products received for reviews will be disclosed in the relevant post.