What was once a dream that could only happen in Japan has arrived in Singapore. Locals and travellers who are more into authentic experiences find capsule hotels in Singapore the best-valued lodging option there is. Read on to learn more about the unique features of a capsule hotel and some recommendations from us!
---
Quick jump to:
---


What are Capsule Hotels?
Originating in Japan, capsule hotels are bare-bones lodging that features many pod-like 'rooms' roughly the size of a casket (for lack of a better comparison).
Capsule hotels are compact and minimalistic, providing nothing more than a mattress and some charging ports in each pod. Much like a hostel, you will find most amenities, such as bathrooms, fridges, and luggage storage in the hotel's common area.
Capsule hotels in Singapore certainly look fancier than they sound. Though small, these sleeping pods are clean, stylishly designed, and professionally managed. If you're a young traveller who is out and about all day and doesn't mind sacrificing a bit of room space for cheaper rates, these are perfect for you.
Pros of a capsule hotel:
Cheap
Clean and stylish
Typically located in prime locations surrounded by major shopping centres and eateries
You'll meet new people from around the world with unique stories to tell, make new friends, enrich your journey
A private room gives you the option to not socialise too, unlike the open-planned hostels
Cons of a capsule hotel:
Small room
Most facilities are out in the common area – the late-night walk to the bathroom might be more awkward
Not great if you have very sensitive hearing (soundproofing a 8-pax+ room can only do so much)


Will I enjoy capsule hotels?
Capsule hotels in Singapore are not for everyone. They are best if you're one of these types of people:
1|Hustlers who often have to work (overtime) till late
For (forced-to-be) workaholic young adults who always need to work overtime and miss the MRT ride or bus back home all the time because of it.
If hailing a cab and staying in a conventional hotel with your hard-earned money is the last thing on your mind, capsule hotels are the way, apart from hourly hotels in Singapore.
More: Best Hourly Hotels in Singapore (by bestprices.sg)
2|Party-goers
Capsule hotels are perfect for party animals who've had one too many and are too drunk to get themselves a cab or make an online hotel reservation.
Just kidding. If you only want a bed to lie on and you've spent all your money on drinks and clubbing, we suggest you get yourself checked into a capsule hotel.
3|Budget-conscious lovebirds
For couples who really want to spend quality time together but are unfortunately on a tight budget, not only are capsule hotels extremely affordable, but they can also provide you with sufficient amenities to make your overnight stay comfortable.
The ambience and the enclosed space also create intimacy, leaving you two no choice but to cuddle.
4|Extroverts who want to interact with other guests/tourists
Capsule hotels are what tourists who are really on a tight budget go for mainly due to their inexpensive rates. This is where you should stay if you want to make friends with interesting individuals who hail from a different continent.
You two will get to learn so many things from one another. It might also be the start of a lifelong friendship!
➜ ➜ Download Flow App
and make your first hourly space booking ➜ ➜


Why are capsule hotels still in high demand during the pandemic?
The virus dealt the hospitality industry a huge blow on a global scale as the number of leisure travellers dwindled to almost zero at the peak of the viral disease. Capsule hotels were among the hardest hit when the pandemic struck.
But they are making a comeback with the force of a great typhoon. A number of them actually have been and are still in high demand despite the circuit breaker, mainly because they've found a way to market to domestic guests.
While staycation packages keep luxury hotels afloat, capsule hotels in Singapore also saw an opportunity to tap into the local market. Singaporeans are staying at capsule hotels for numerous reasons:
To enjoy much-needed privacy to themselves post-lockdown
To escape from the dreadful commute after a long day at work
To


Best Capsule Hotels in Singapore
1|Cube Boutique Capsule Hotel: An Alcoholic's Heaven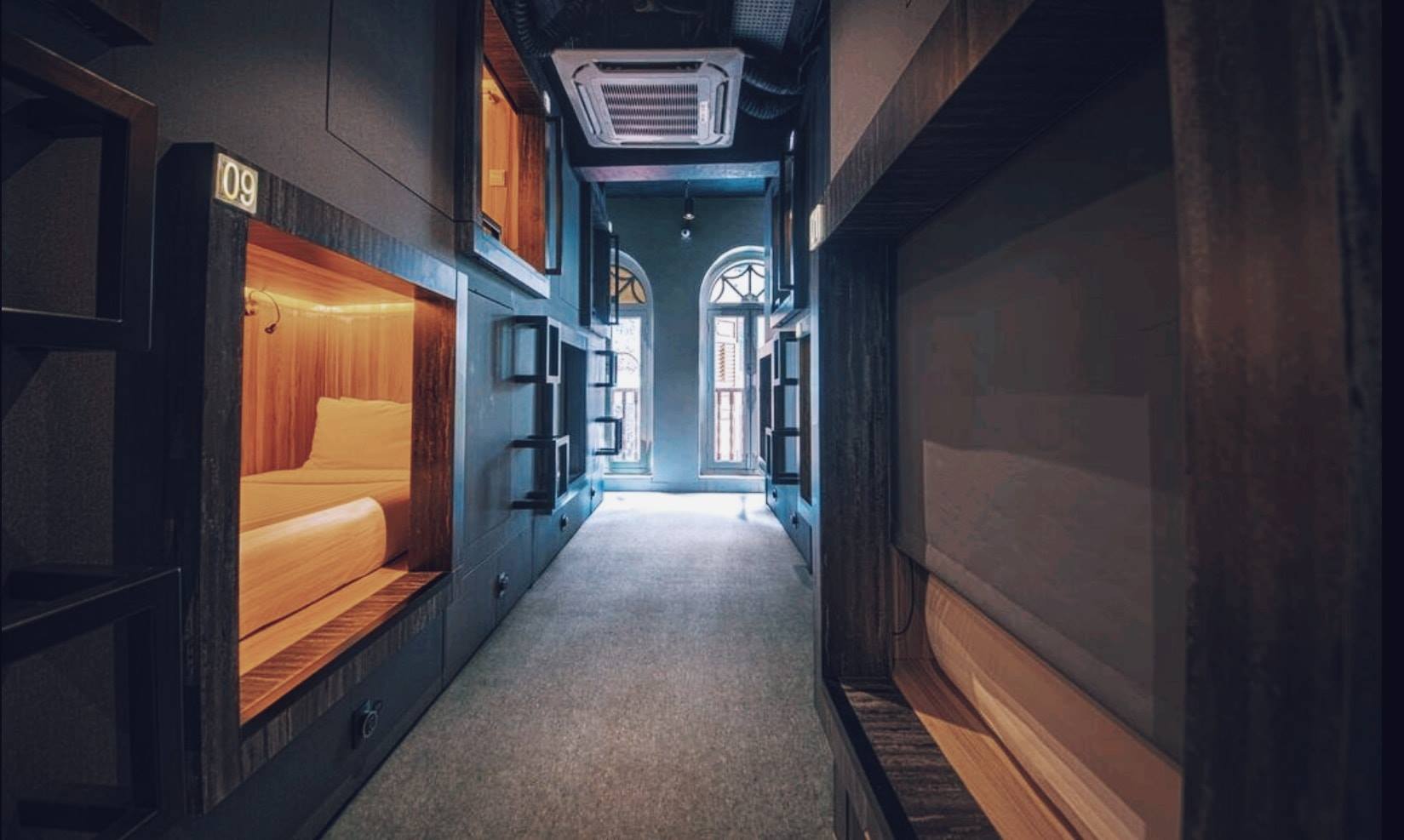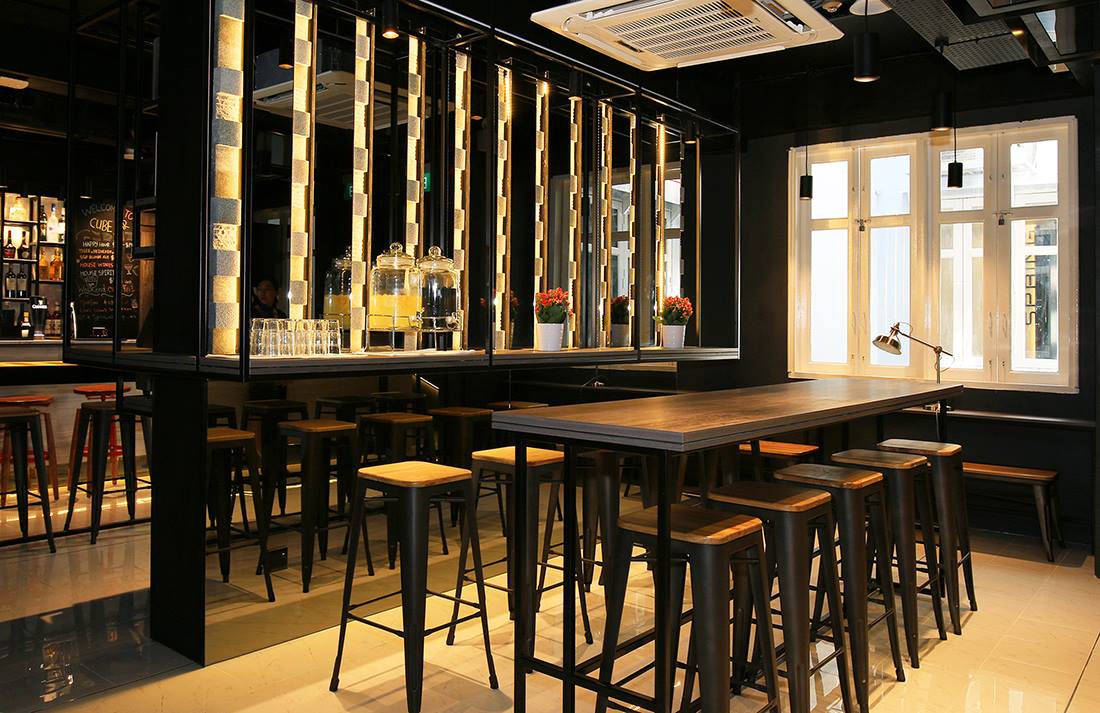 The only sound you won't hear at Cube is the grumbling of your stomach. How is it possible when the capsule hotel is situated at the heart of Chinatown and there's an in-hotel bar at their lounge?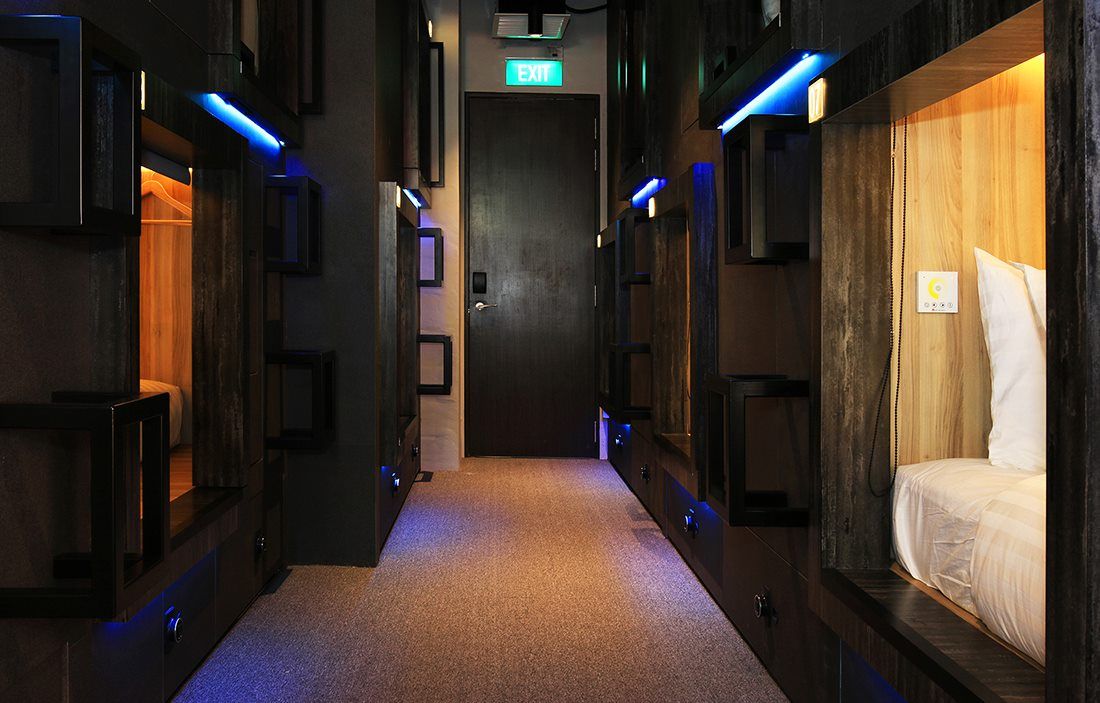 The entrance of their capsules is adorned with futuristic neon lights ranging from purple to blue. Coupled with their granite-coloured walls, you'll feel as though you were chilling on the Star Wars planet Coruscant!
Once you start feeling tipsy, you can catch some z's with their cosy duck feather-filled duvet wrapped around your body. Their capsules are also diagonal from each other, so the only thing you should worry about is sleeping so soundly that you sleep through your alarm.
Rate: S$49 up
▼Their exceptionally useful facilities and amenities are as follows:▼
Amenities
• Complimentary self-help laundry
• Complimentary breakfast buffet (7:30am-10:30am daily)
• 1 towel/day
• Self-contained individual bathroom with soap & shampoo
• Personal lockers in each room with secure key-card access
Facilities
• Cocktail bar
• Personal work space with business services
• Female-only rooms
Closest MRT station
Chinatown MRT station
Distance from the nearest MRT station
2-min walk
Address:76A/B, 78A/B Smith Street Level 2, 3, Singapore 058971
2|The Pod: The Modern and The Minimalistic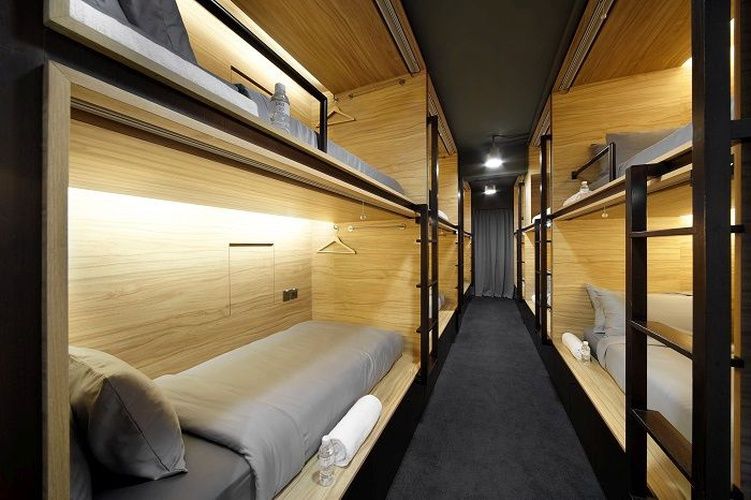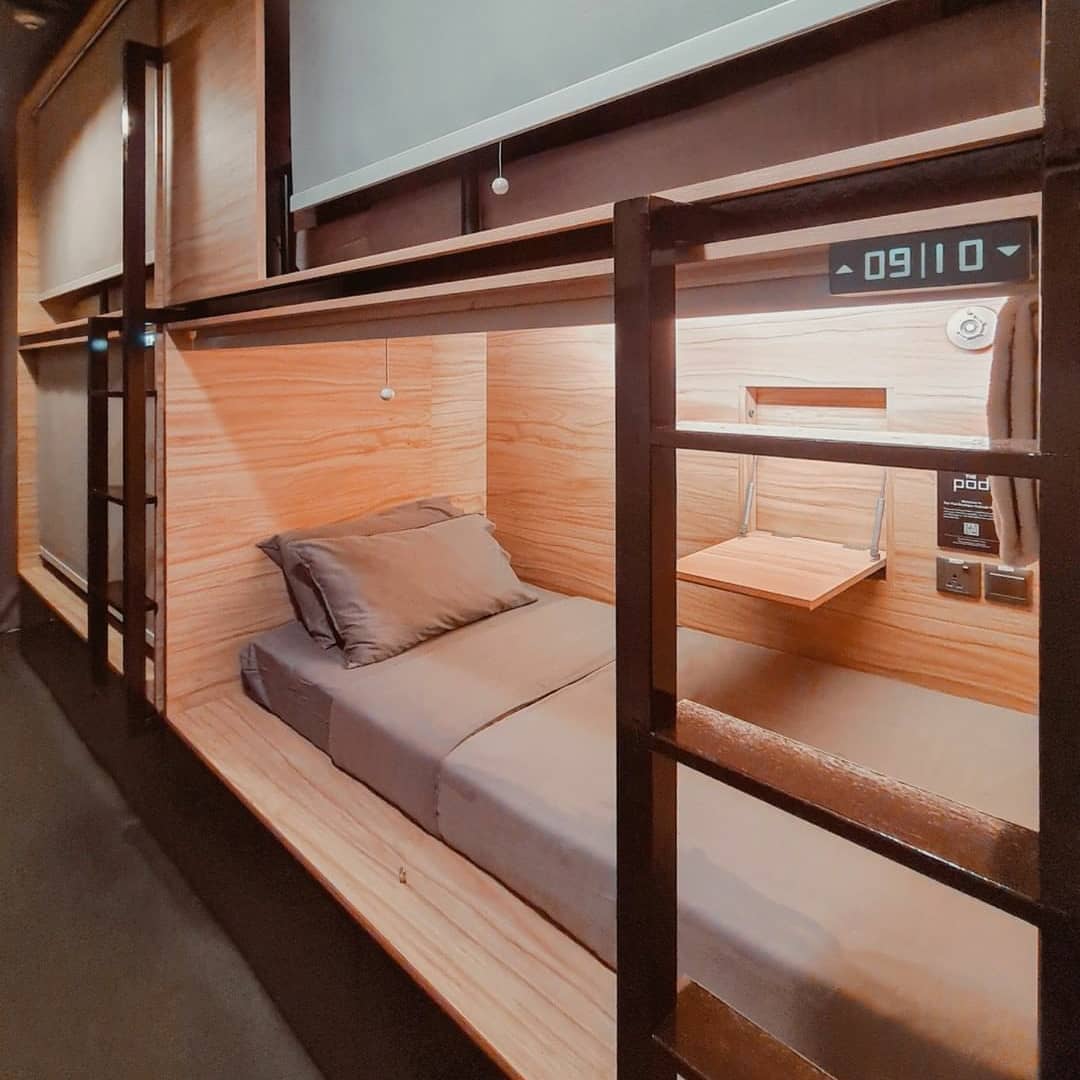 Modern and minimalistic are the most accurate terms to describe The Pod. Their second selling point is their soothing and sleek neutral tones. When you're staying in such an idyllic environment, all your worries automatically disappear.
There are plenty of extravagant and beautiful attractions outside to strike a perfect balance with the calmness of the hotel as it is surrounded by the CBD, Marina Bay, Merlion Park, Singapore Flyer, Kampong Glam, Haji Lane and Bugis.
Rate: S$31 up
▼Their exceptionally useful facilities and amenities are as follows:▼
Amenities
• Self-help laundromat
• Free complimentary hot breakfast and hot beverages during breakfast hours
• Self-contained bathrooms with separate toilet, sink, rain shower and toiletries
• Personal lockers with secure key-card access
Facilities
• Business pods
• Meeting room
• Womens floor
• Transfer to the airport
Closest MRT station
Bugis MRT station
Distance from the nearest MRT station
9-min walk
Address:289 Beach Rd, Level 3, Singapore 199552
3|7 Wonders Capsule and Cafe: Good Mornings Guaranteed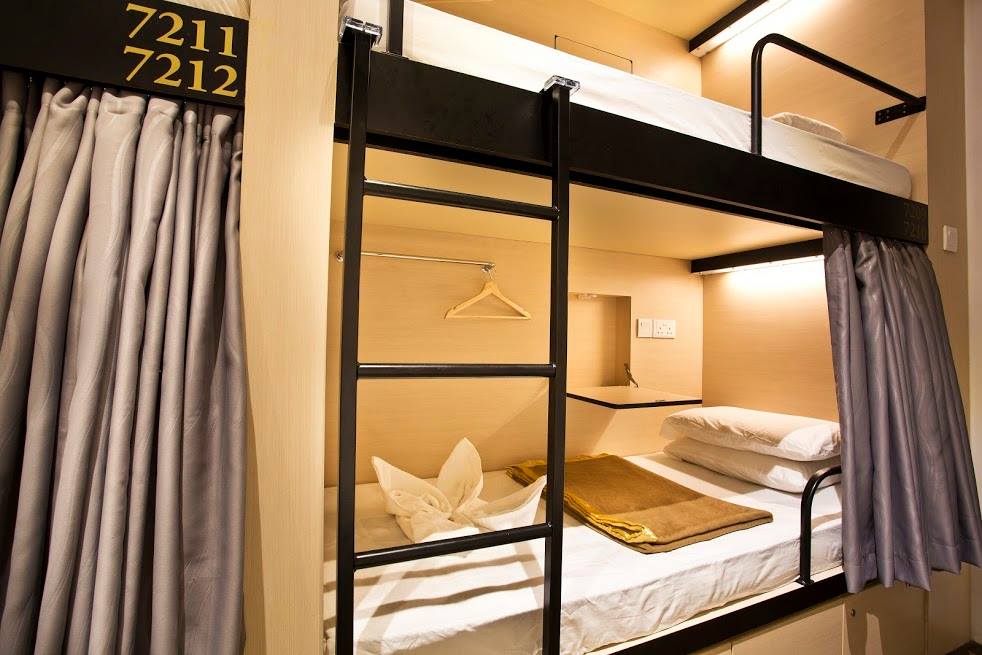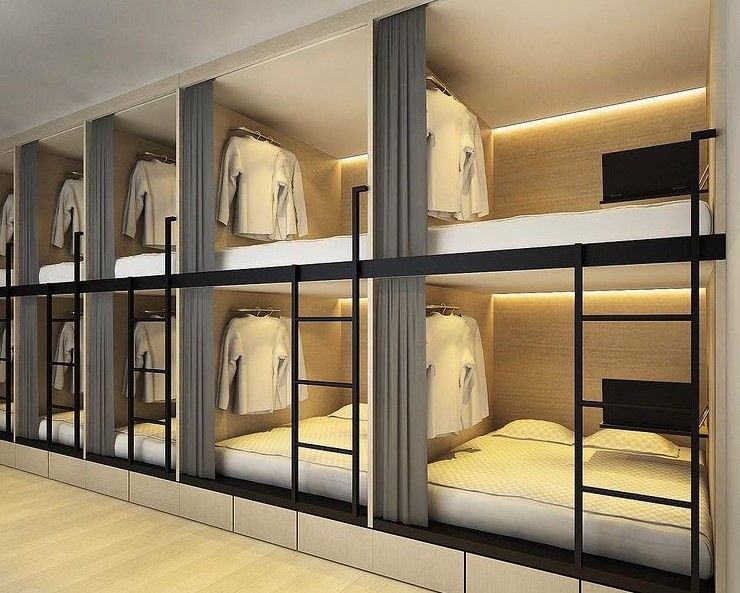 Unlike posh hotels with glamorous interior design, 7 Wonders doesn't make its guests feel out of place. Priding itself in its unpretentiousness, guests will feel right at home, like they belong.
Visitors could find themselves in heaven for shopaholics such as the trendy and quirky Kampong Glam and the 24/7 Mustafa Shopping Centre.
If you have hazy memories of clubbing, Clarke Quay is only an 18-minute bus ride from this capsule hotel.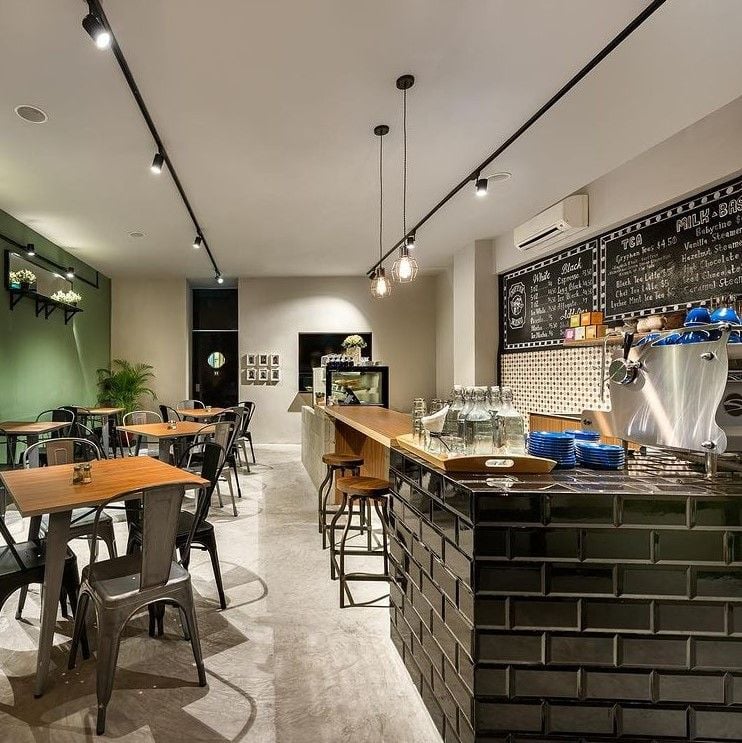 Don't fret if you wake up with a terrible hangover. 7 Wonders's got you covered. On top of complimentary breakfast, this hotel remains the only one of its kind in this city to serve the world's strongest coffee, Death Wish.
You might wake up feeling sick, but you will check out of the hotel feeling like Super Man.
Rate: S$30 up
▼Their exceptionally useful facilities and amenities are as follows:▼
Amenities
• Laundry services
• Complimentary breakfast
• Complimentary towels and body wash
• Personal lockers
• SoCash withdrawal (temporarily exclusively for local Singaporean banks only)
• Shuttle service
Facilities
• Game room
• Restaurants
• Allergy-free rooms
• Female-only rooms
Closest MRT station
Farrer Park MRT station
Distance from the nearest MRT station
7-min walk
Address (Jalan Besar):257 Jln Besar, Singapore 208930
Address (Little India):12 A Upper Dickson Rd, Singapore 207474
➜ ➜ Download Flow App
and make your first hourly space booking ➜ ➜
4|Met A Space Pod: The Neil Armstrong/Jeff Bezos Experience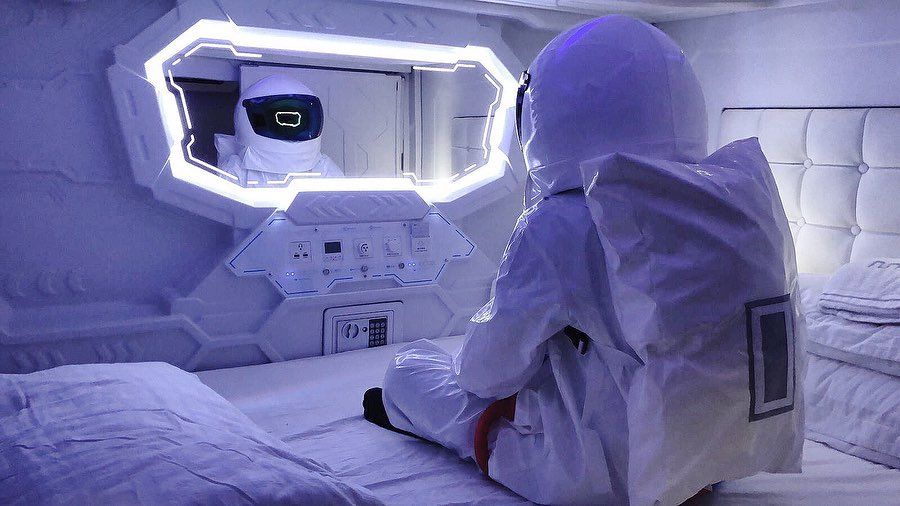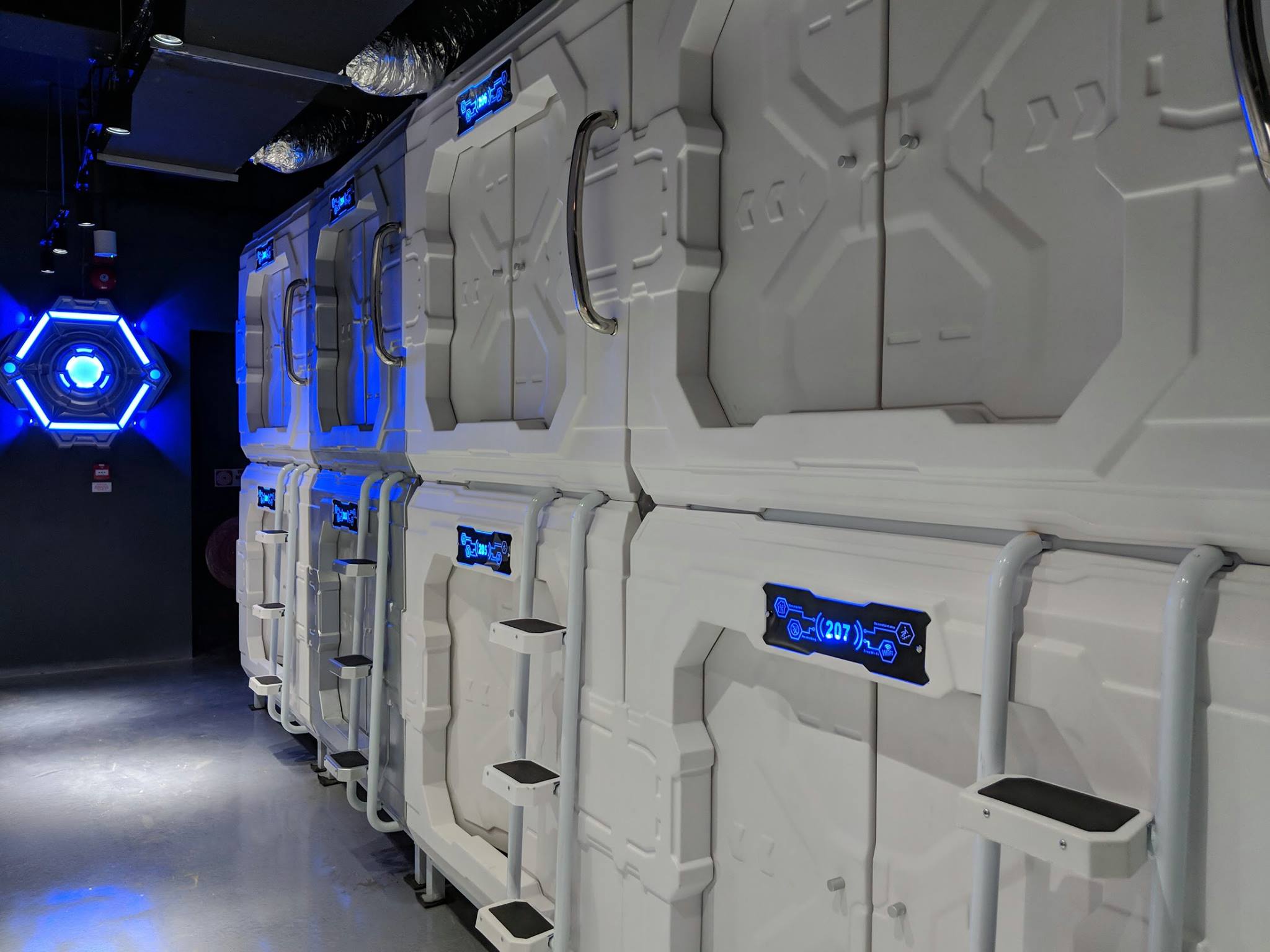 This is Singapore's first space-themed capsule hotel! If you want to be like Neil Armstrong/Jeff Bezos for a night, make a reservation to sleep in one of their decent space pods.
People won't suspect if you've walked on the Moon.  They won't make fun of the shape of your rocket, either. What they'll feel towards you is jealousy. Why? Even though it costs more than the ones we've mentioned, you get to experience what astronaut recruitment/training is like!
Of course, Met A Space Pod wouldn't want to bore their valuable space cadets to death! If you're tired of isolating yourself, an array of books and board games await you in their lounge area. You can also watch a blockbuster or two as you sail across the Milky Way.
Rate: S$60 up
▼Their exceptionally useful facilities and amenities are as follows:▼
Amenities
• Laundry
• Soap & shampoo
• Towel
• Free breakfast
• Nightly movie screenings
• Hypoallergenic bedsheets
• Personal lockers
Facilities
• Lounge areas with books and board games
• Restaurants
Closest MRT station
Chinatown MRT station
Distance from the nearest MRT station
4-min walk
Address (Chinatown):46b Smith St, Singapore 058956
Address (Clarke Quay):51 Boat Quay, Singapore 049840
Address (Bugis):56 Arab St, Singapore 199753
5|Thad's Boutique Hostel: Let's Get Societal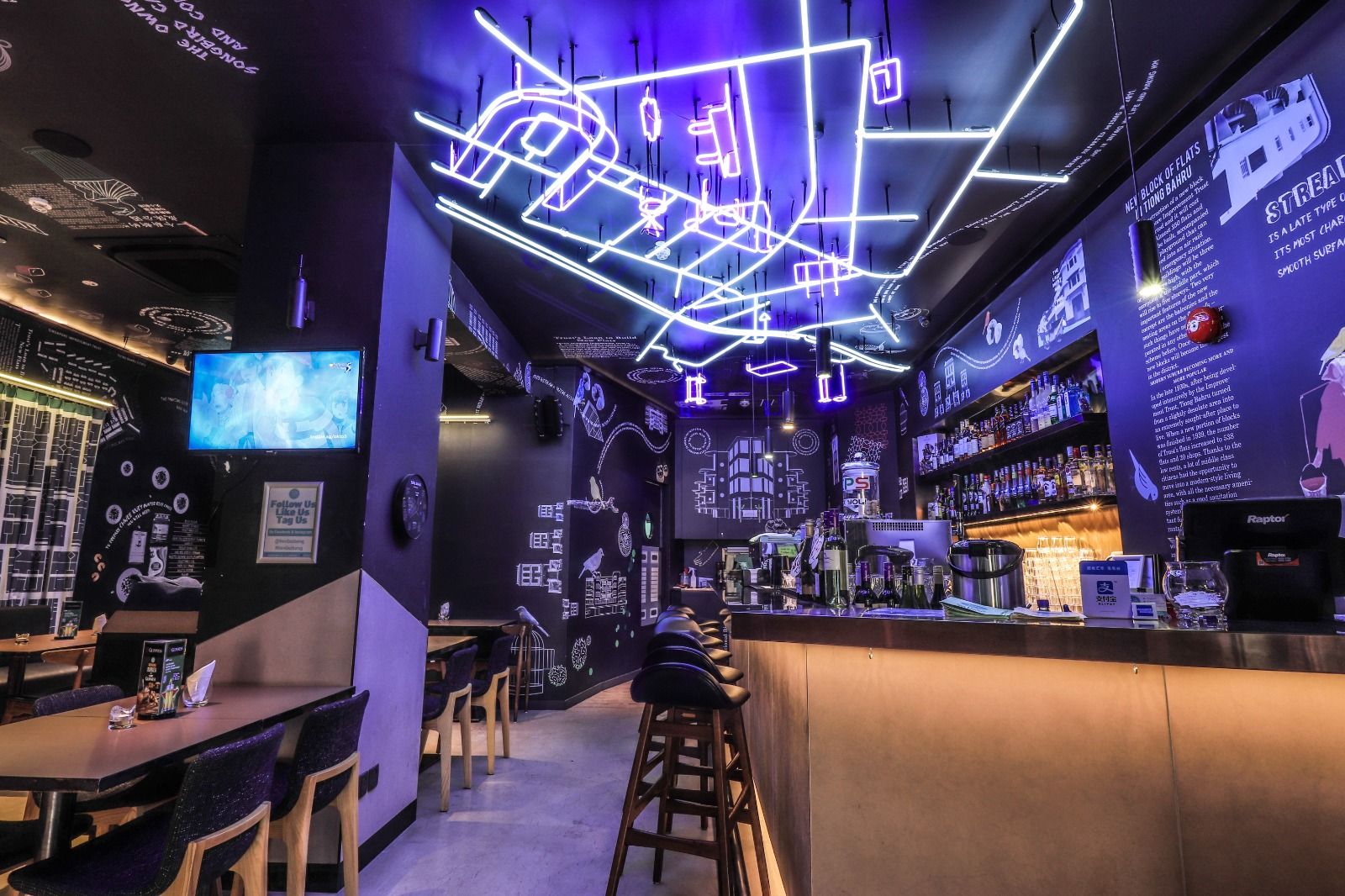 What makes Thad's Boutique Hostel stand out is how it's known for being the first Singaporean capsule hotel with a platform for guests and tourists to mingle and build connections.  
To encourage its guest to socialize and create memories together, this capsule hotel offers you an idyllic open terrace and alcove to create to get the conversations going.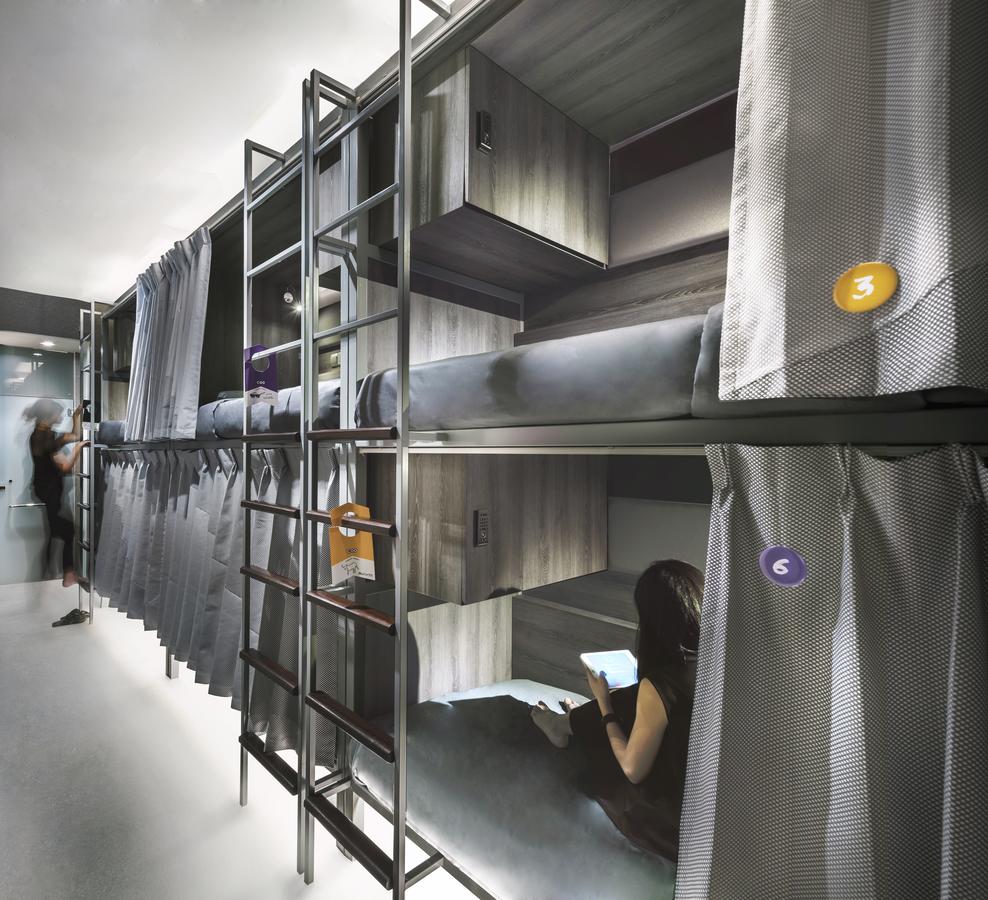 If that isn't enough, it also has a rad bistro bar/lounge that gives off a chill vibe to loosen people up. If you're feeling peckish, you can take it to its restaurant.  
This might be where you sow the seed of a new and unforgettable friendship. Cheers to new connections!
Rate: Currently unavailable due to COVID
▼Their exceptionally useful facilities and amenities are as follows:▼
Amenities
• Laundry service
• Launtromat
• Shower
• Free breakfast (7am-10am daily)
• Personal lockers
• Area shuttle
Facilities
• Open terrace
• In-house bistro bar
• Restaurant and cafe
• Recreation room
Closest MRT station
Outram Park MRT station
Distance from the nearest MRT station
9-min walk
Address:259 Outram Rd, Singapore 169056
Staying in a capsule hotel is something that you ought to try once. We don't know how to really describe such an experience, but we can guarantee that it's going to be worth your while!
We hope you can spend a night or two in these. Hope these capsule hotels are what you're looking for and have fun!
— About Flow —
Flow – the "Platform for Space" where travellers can book hotels or office space by the hour or timeslot, enabling flexibility in check-in time & duration of stay.
Why book for the whole day, if you need to stay for just a few hours?
Download Flow App now (Android / iOS) and enjoy up to 75% cheaper prices.