If you want a drink with a stunning view, Hong Kong's rooftop bars are the place to be. Here are the best spots to relax, sip a drink, and enjoy the incredible sights of the city's skyline and Victoria Harbour. We've rounded up the top rooftop and terrace bars in Hong Kong, so get ready to elevate your experience and see the beauty of Hong Kong from above!
1. Cardinal Point – 45/F, Central [NEW]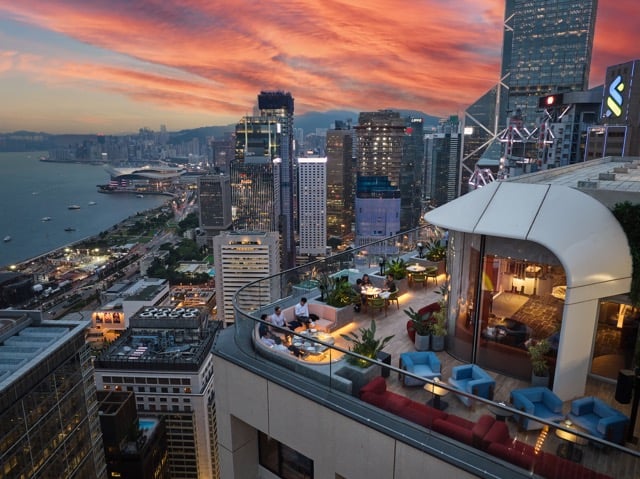 Cardinal Point is one of the newest and hottest rooftop bars to open in summer 2023, and it is considered to be the "new ceiling," redefining the already high quality of rooftop bars. Located at the multi-experience space Forty-Five atop LANDMARK in Central, it boasts a stunning al fresco terrace offering panoramic views of Hong Kong's iconic skyline and Victoria Harbour. Led by The Diplomat's John Nugent, the bar presents a creative drinks program that celebrates global ingredients with innovative and retro twists. This new rooftop bar seamlessly combines tropical natural elements with refined decor.
Address: Forty-Five, Gloucester Tower, Landmark, Central (Google Maps)
Operating Hours: Mon-Sat & the day before public holiday: 12pm-1am; Sun: 12 pm-10pm
Website: https://www.cardinalpoint.com.hk/
2. Plume – 24/F, Central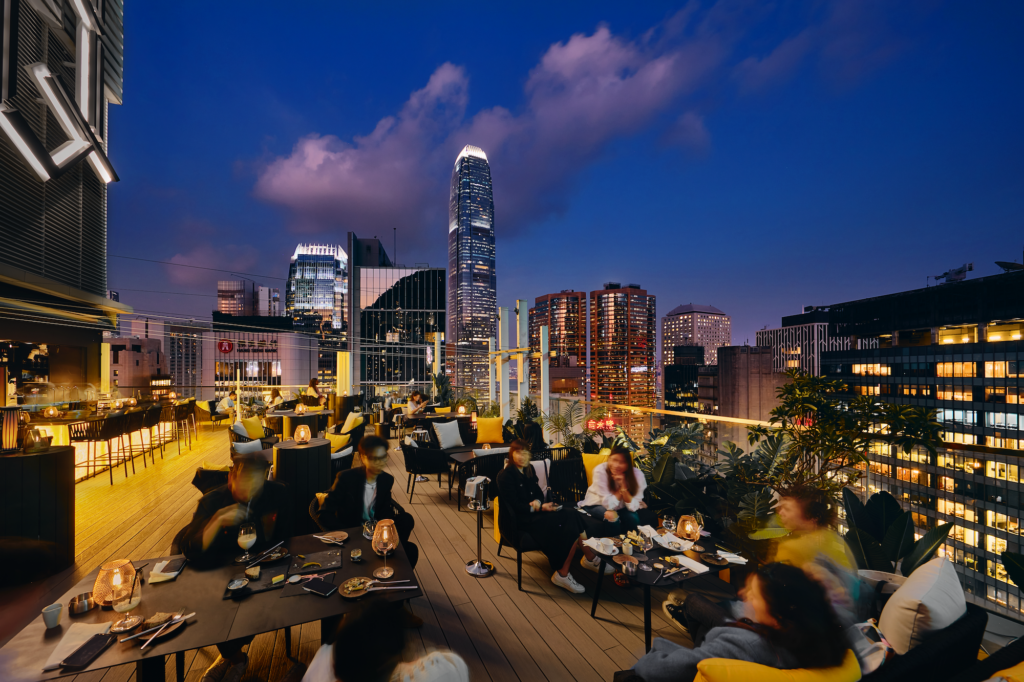 Plume, located at H Queen's in Central, is a rooftop wine bar perched atop the vibrant nightlife district of Lan Kwai Fong. This bar boasts a world-class wine selection and elevated cuisine crafted by its prestigious 2-Michelin-starred sister restaurant, Écriture. Alongside its modern French dishes, Plume also features an assortment of premium cigars for those seeking a touch of luxury. With its contemporary interior and expansive outdoor patio, Plume's offerings come with a higher price tag, but the level of sophistication and exclusivity justifies it.
Address: ROOFTOP (R/F) 80 Queen's Road Central, H Queen's, Central, Hong Kong (Google Maps)
Operating Hours: Tue-Sat: 12pm-1am; Sun & Mon: closed
Website: https://www.plumehk.com/
3. EyeBar – 30/F, Tsim Sha Tsui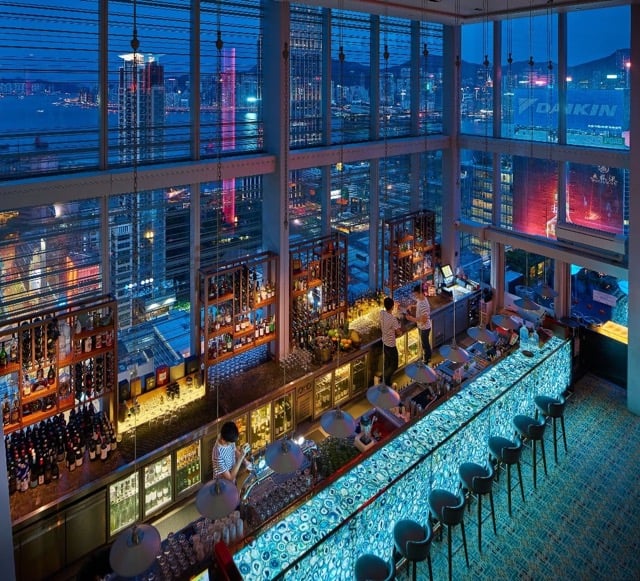 EyeBar, located on the 30th floor of ISQUARE in Tsim Sha Tsui, is a stunning rooftop bar that offers a sweeping 270-degree view of Hong Kong's skyline. With its Chinese-inspired maritime theme and floor-to-ceiling windows, the bar has an approachable vibe despite the expensive setup. The terrace features bar stools for guests to enjoy the breathtaking vistas of Victoria Harbour, and a telescope is available for closer views. Don't miss their signature cocktail, the 'Suzie Wrong.' It is recommended to visit during the 8pm light show at the harbour, making EyeBar a memorable experience that is worth the price.
Address: 30/F, ISQUARE, 63 Nathan Rd, Tsim Sha Tsui, Hong Kong (Google Maps)
Operating Hours: Mon–Sun: 3pm-12am
Website: https://www.elite-concepts.com/restaurants/eyebar/en/
4. Club @28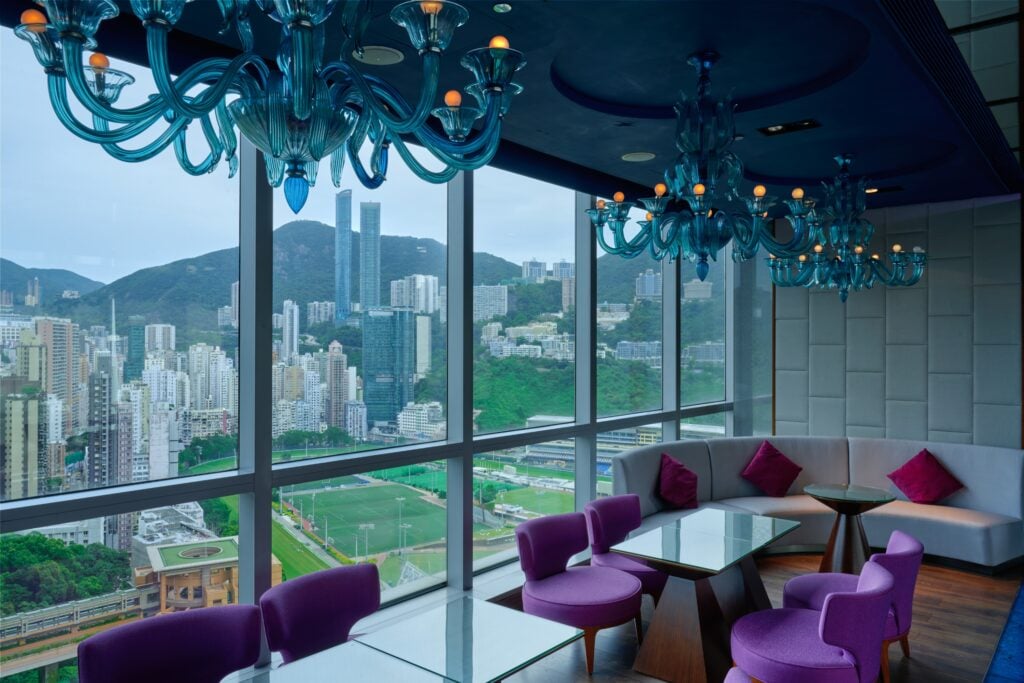 Club @28 is a stylish rooftop bar, tucked away on the 28th floor of Crowne Plaza Hong Kong Causeway Bay. It's not your typical watering hole; rather, it boasts a poolside bar that is part inside lounge and part open terrace. Overlooking the peaceful Happy Valley residential area, this venue offers a serene skyline instead of a bustling night view. Club @28 occasionally hosts live entertainment, whether you crave a tranquil afternoon of poolside sunbathing or are planning an unforgettable poolside party. Come here for a good time!
Book a daycation: Crowne Plaza Hong Kong Causeway Bay
Address: 8 Leighton Rd, Causeway Bay, Hong Kong (Google Maps)
Operating Hours: Mon–Sun: 3pm-12am
Website: https://www.cphongkong.com/en-us/page/dining/club-28
5. Terrible Baby – 4/F, Jordan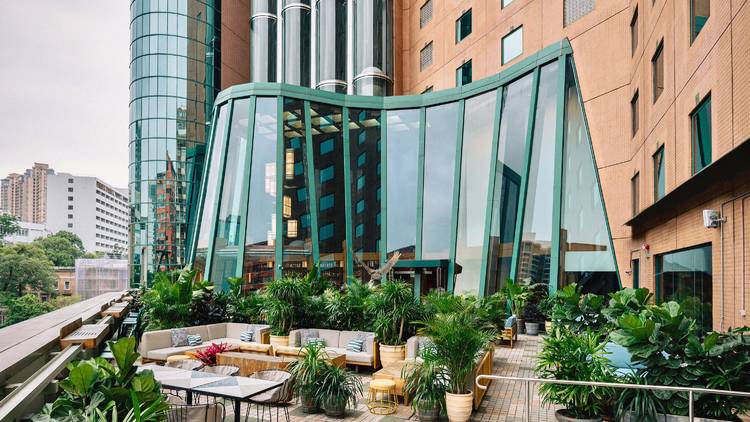 Terrible Baby is a terrace bar hidden above the lively Nathan Road at Eaton HK in Jordan. Don't be fooled by the name; it's anything but terrible. It embodies the spirit of rebellious creatives who live life on their own terms. With a fully-equipped band stage, stylish lounge interiors, and funky vibes, this terrace bar pays homage to the French term 'L'Enfant Terrible,' often used to describe clever yet unconventional artists. While the view may not be breathtaking due to its low floor amidst towering buildings, the bar offers some of the most sought-after live entertainment in town, including thought-provoking stand-up comedy and popular DJ shows.
Book a daycation: Eaton HK
Address: 4/F, Eaton HK, 380 Nathan Rd, Jordan, Hong Kong (Google Maps)
Operating Hours: Sun-Thu: 2pm-12am; Fri-Sat: 2pm-2am
Website: https://www.terriblebaby.com/
6. Portico Hong Kong – 3/F, Central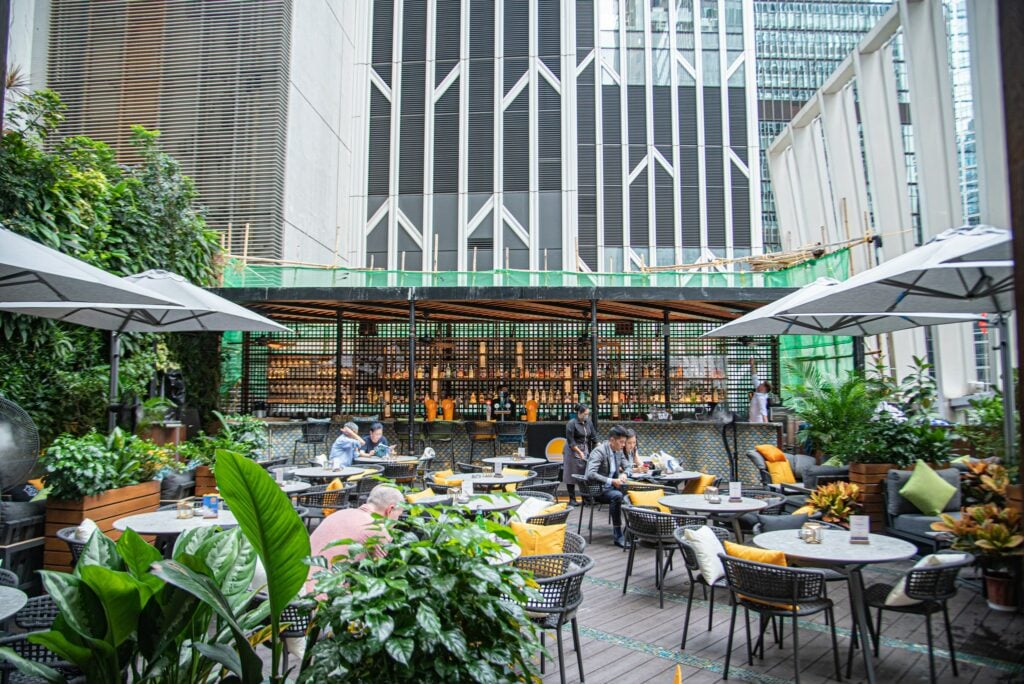 Experience an authentic Italian ambience at Portico, the outdoor terrace bar linked to Spiga Italian restaurant in Queen's Road Central. Managed by a dedicated Italian team comprising a manager, hostess, chef, and sommelier, this charming open-air venue features a long bar, comfortable low sofas, and stylish retro hanging chairs. The expansive patio offers cosy sun loungers, creating a garden-like oasis that maximizes the available space. Conveniently located, Portico attracts a lively crowd during post-work happy hours, providing a relaxed and enjoyable atmosphere in one of Hong Kong's most sought-after areas.
Address: 3/F, LHT Tower, 31 Queen's Road Central (Google Maps)
Operating Hours: Mon-Sun: 11:30am-12am
Website: –
7. Sugar – 32/F, Taikoo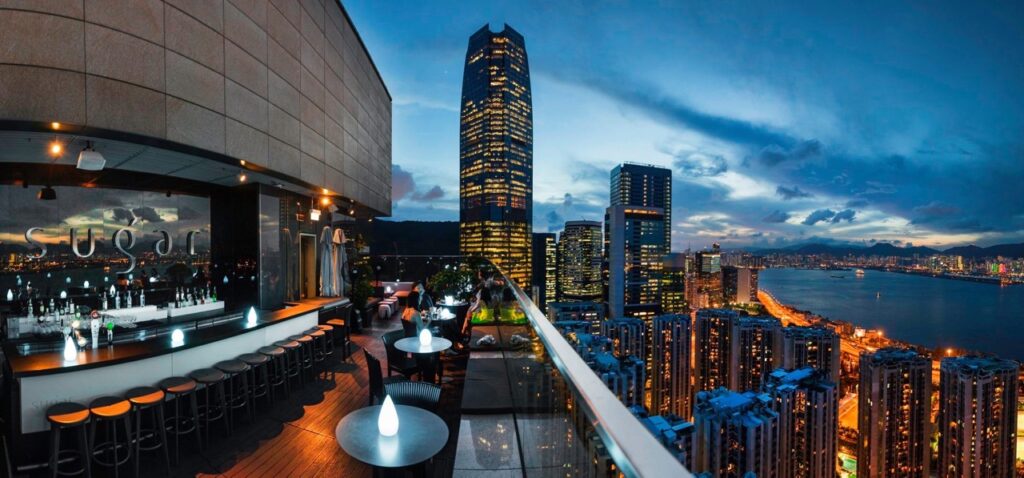 Sugar is a sleek rooftop bar on the 32nd floor of EAST Hong Kong in Taikoo. It is one of the very few rooftop bars in Hong Kong that offers a true unobstructed harbour view as advertised. The outdoor terrace is large and cosy, perfect for enjoying relaxing sunsets. They also have a shisha menu for those who want a stronger buzz after work. Located in East Soho, a lively area with trendy bars and restaurants, it mainly caters to the corporate elites in Quarry Bay and Taikoo Place.
Book a daycation: EAST Hong Kong
Address: 32/F, EAST Hong Kong, Taikoo Shing (Google Maps)
Operating Hours: Mon-Thu: 5:30pm-1:00am; Fri-Sat:5:30pm-1:30am; Sun:
Closed
Website: https://www.easthotels.com/en/hongkong/restaurants-and-bars/sugar/
8. The Envoy – 3/F, Central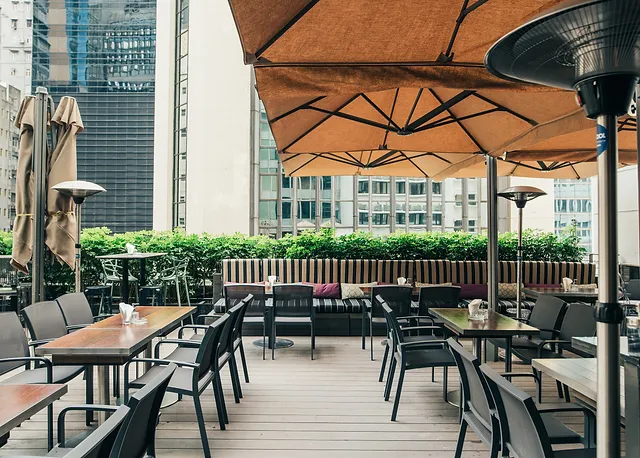 Step inside The Envoy, a renowned bar and restaurant located within the acclaimed boutique hotel The Pottinger Hong Kong on the cobbled 19th-century Pottinger Street in Central. This colonial-inspired gem has earned its place on the prestigious Asia Top 50 Bar list. The Envoy presents a captivating fusion of British colonial-themed cuisine and contemporary mixology, offering a modern interpretation of Hong Kong's colonial influences. The terrace bar continues to captivate city dwellers with its innovative and enticing beverage creations.Be sure to take advantage of the special offer of 50% off their signature cocktails before 8pm.
Address: 3/F, The Pottinger Hong Kong, 74 Queen's Road Central (Google Maps)
Operating Hours: Sun-Thu: 12pm–12am; Fri-Sat: 12pm–2am
Website: https://www.theenvoy.hk/
9. The Crown – 25/F, Wan Chai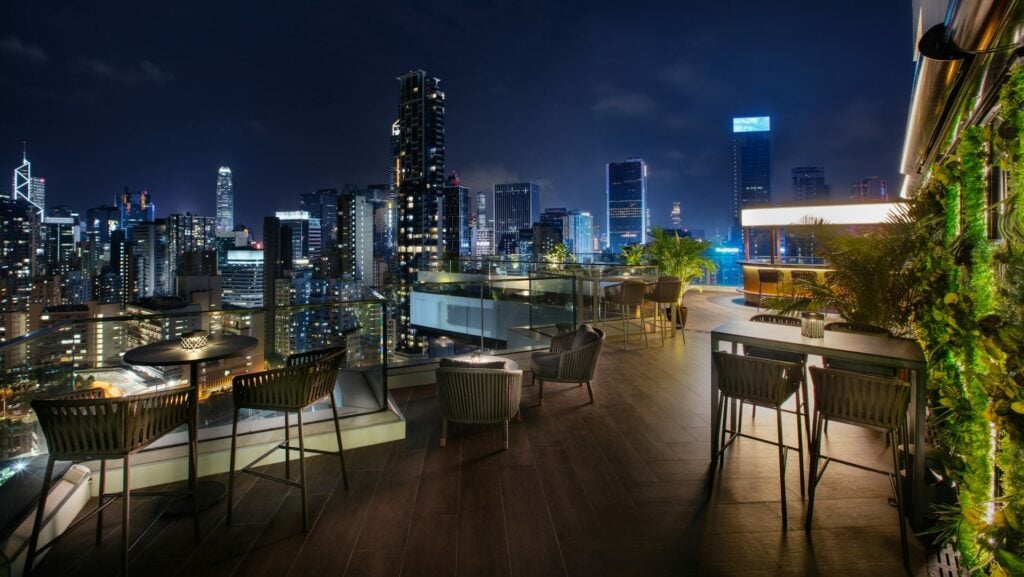 Eever dreamed of being serenaded by a famous singer? It's said that you might have such an experience at The Crown, the rooftop bar of The Emperor Hotel in Wan Chai. The creator, Hins Cheung, a renowned cantopop singer turned restaurateur, occasionally treats guests to a few songs. The bar, lounge, and restaurant boast an Art Deco design that extends to a balcony and a sky garden on the 26th floor, exuding unparalleled grandeur and luxury. Prepare to be transported to the glamorous era of the 1920s, where refinement and splendor reign. While we can't guarantee royal status, The Crown promises an unforgettable evening fit for royalty. Dress to impress and get ready for an extraordinary experience.
Book a daycation: The Emperor Hotel
Address: 25/F, The Emperor Hotel, 373 Queen's Road East, Wan Chai, Hong Kong (Google Maps)
Operating Hours: Mon-Sun: 5pm-2am
Website: https://thecrownhk.com/
10. Cadillac Bar & Grill – 7/F, Causeway Bay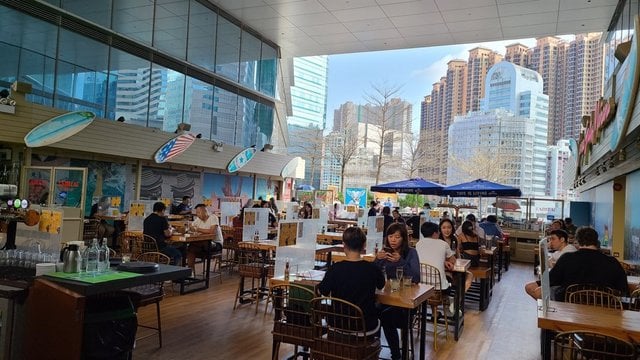 Immerse yourself in the Wild West at The Cadillac Bar & Grill, located in the heart of Hong Kong. This expansive rooftop bar in Causeway Bay's Hysan Place captures the essence of Mexican-American cuisine. Step into a Western-inspired atmosphere that transports you to sun-soaked beaches and vibrant fiestas. Whether you prefer the spacious indoor area or the outdoor seating with stunning city views, The Cadillac offers a delightful dining experience. With affordable prices that increase every hour until 7 pm and a vibrant Mexican spirit, it's the ideal place to uplift your mood and enjoy a taste of the Wild West in Hong Kong.
Address: 7/F, Hysan Place, 500 Hennessy Rd, Causeway Bay, Hong Kong (Google Maps)
Operating Hours: Mon– Sun: 11:30am-12:00am
Happy Hours: Mon-Fri: 3pm-7:30pm
Website: https://www.elgrande.com.hk/restaurants/main/hong-kong/cadillac-bar-grill/en/
11. Thirsty Shaker – 3/F, Central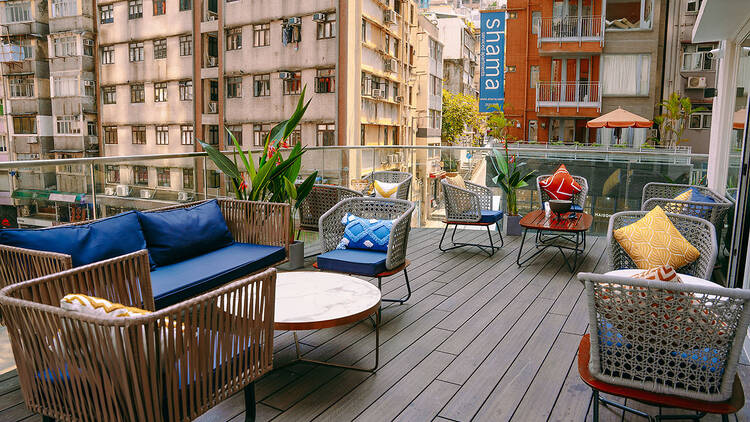 Thirsty Shaker, the first punch cocktail bar in Hong Kong, wholeheartedly embraces the joy of party punch. This bar in SOHO takes pride in offering signature punch cocktails served in large bowls, ideal for sharing among friends. With a monthly rotation of drinks, guests can always anticipate new and exciting options. Thirsty Shaker also provides shisha, cocktails, and snacks, and their pet-friendly policy allows you to bring your furry companions to enjoy the refreshing outdoor deck. Step into Thirsty Shaker and immerse yourself in a relaxed ambience, while taking in the vibrant cityscape of nearby Lan Kwai Fong and the bustling nightlife in Central.
Book your daycation in Central
Address: Entrance via Hilltop Plaza, 3/F, 49 Hollywood Road, Graham St, Central (Google Maps)
Operating Hours: Mon-Thu: 4pm-12am; Fri-Sat: 4pm-2am; Sun: Closed
Website: https://www.thirstyshaker.com/
12. Red Sugar – 7/F, Hung Hom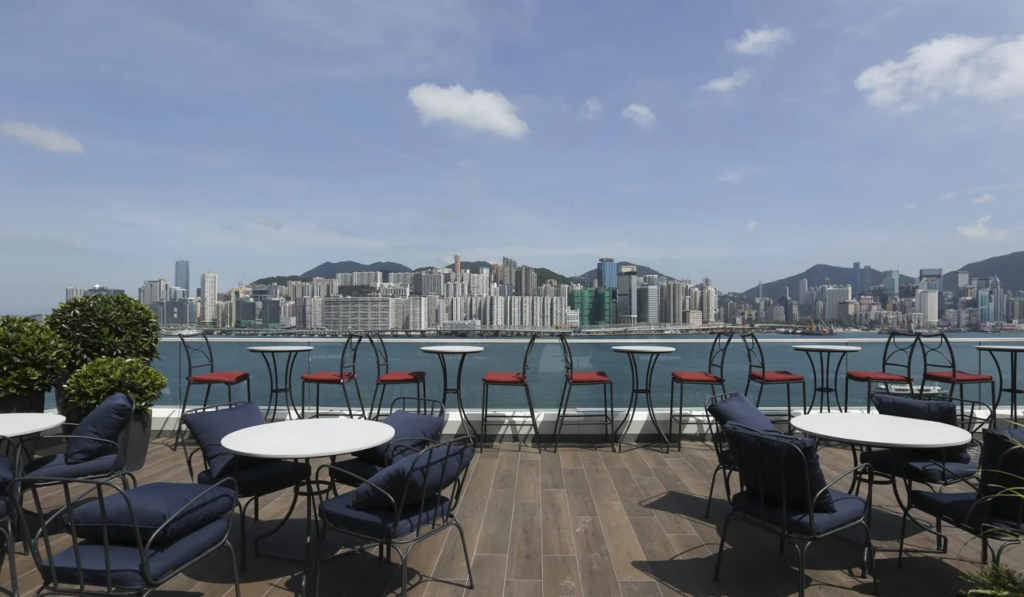 Hotel bars always offer the best views, and Red Sugar, the rooftop bar at Kerry Hotel in Hung Hom Kowloon's vibrant waterfront, is no exception. It boasts an outdoor terrace with a breathtaking 270-degree view of Victoria Harbour. Bedecked with verdant foliage and chic loungers, Red Sugar offers sweeping vistas of the harbour and the stunning skyline of Hong Kong Island. With an extensive selection of Japanese whiskey, including Hibiki 21 and Chiro's Wine Wood, as well as single malts from renowned distilleries like Ardbeg, Clynelish, Highland Park, and Glenkinchie, Red Sugar guarantees an unforgettable whiskey experience amidst urban garden vibes and awe-inspiring vistas.
Address: 7/F, Kerry Hotel, 38 Hung Luen Rd, Hung Hom, Hong Kong (Google Maps)
Operating Hours: Mon-Thu & Sun: 4pm – 12am; Fri-Sat: 4pm – 1am
Happy Hour: Mon-Thu & Sun: 4pm – 7pm
Live DJ Performance: Fri-Sat: 8:30pm–12:30am
Website: https://www.shangri-la.com/hongkong/kerry/dining/bars-lounges/red-sugar/
13. ALTO Bar & Grill – 31/F, Causeway Bay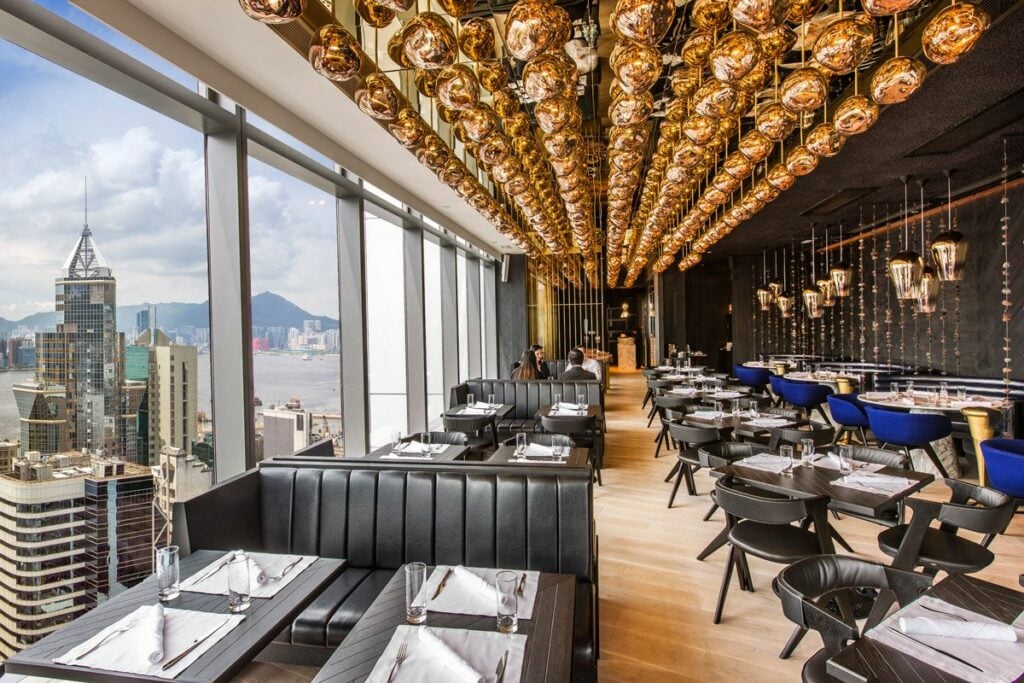 Situated atop the V Point Tower in Causeway Bay, ALTO is a rooftop steakhouse that offers an exceptional dining experience on the 31st floor. It features a unique dual setup with a more formal fine dining area below and a relaxed open-air drinking spot called "The Rooftop" above. With an unmatched panoramic view of Hong Kong's dazzling night skyline, the restaurant also boasts a sleek and modern design crafted by Tom Dixon. Indulge in a delectable menu centred around grilled dishes, showcasing the finest cuts of beef sourced exclusively for your enjoyment. Alternatively, you can savour a magical happy hour on the rooftop with light bites.
Address: 31/F, V Point, 18 Tang Lung St, Causeway Bay, Hong Kong (Google Maps)
Operating Hours: Mon-Fri: 12-3pm & 6-11pm; Sat-Sun: 11:30-3pm & 6-11pm
Website: https://www.sandshospitality.com/portfolio/alto
14. KABOOM – 20/F, Tsim Sha Tsui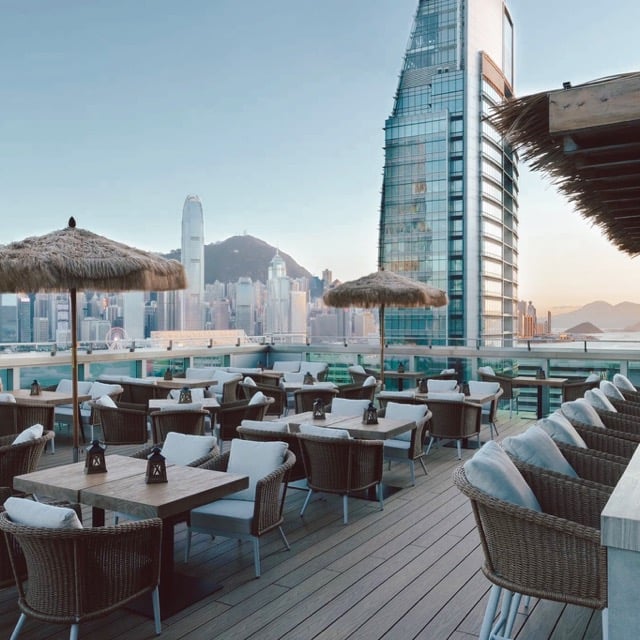 KABOOM, the latest sensation in Tsim Sha Tsui, is a beach-inspired restaurant/ bar/ shisha lounge situated atop Prince Tower. It has quickly become one of the most sought-after spots among the younger crowd. Occupying two expansive floors, KABOOM offers a delightful blend of Southeast Asian cuisine, innovative cocktails, and unique shisha experiences on its outdoor patio, located on the 20th-floor sky garden. The ambience exudes a genuine Thailand resort feel, making it an irresistible destination for those seeking a beachside getaway.
Address: 20/F, Prince Tower, 12A Peking Rd, Tsim Sha Tsui, Hong Kong (Google Maps)
Operating Hours: Sun-Wed: 12pm-12am; Thu-Sat: 12pm-2am
Instagram: @kaboom.hk
15. Lounge Hakuba – 3/F, Causeway Bay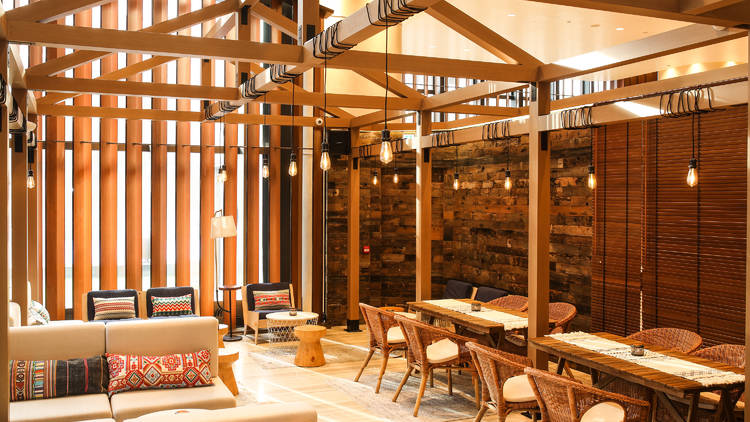 Lounge Hakuba is a spacious café and bar located in a trendy building in Causeway Bay. It offers an outdoor drinking experience inspired by the famous winter sports village of Hakuba in the Japanese Alps. Step onto the open-air terrace and enjoy the lush green lawns, camping gear, and comfortable outdoor seating, surrounded by stunning views of skyscrapers nearby. Lounge Hakuba seamlessly combines indoor and outdoor seating, creating a cosy mountain lodge vibe with a touch of camping adventure. Explore their Japanese-inspired drink menu with sake, whiskey, shochu, and more, accompanied by a delicious selection of Japanese appetizers.
Address: Unit 302, 3/F, Tower 535, 535 Jaffe Road, Causeway Bay (Google Maps)
Operating Hours: Mon-Sun: 11:30am-9pm (Cocktail and Lounge: 4:30pm-2am)
Instagram: @lounge.hakuba
When you've had a bit too much to drink or need a break after a wild celebration, why not try using the Flow App to book hourly stays at over 300 hotels in Hong Kong? Whether you want to check in during the early hours of the morning or late at night, it's a great way to recover from the hangover before continuing the party the next day. With flexible stays anywhere, anytime, you can keep the fun going for as long as you want.
What is the dress code for rooftop bars in Hong Kong? 
Rooftop bars in Hong Kong often have a smart-casual dress code. While precise dress rules may differ significantly from one rooftop bar to the next, it is typically suggested to dress in a trendy, respectable, and comfortable manner.
Which is the highest rooftop bar in Hong Kong?
Ozone at the Ritz Carlton is the highest rooftop bar in Hong Kong. Located on the 118th floor of the International Commerce Centre (ICC). It holds the distinction of being the highest bar not only in Hong Kong but also in the entire world.