Need a temporary OT spot? Want a space for meetings or discussions other than noisy cafes? Feel like a decent place to do your own stuff at weekends? Stop wandering around. Flow is the answer!
With Hong Kong's limited usable land, space distribution and land usage optimization are among the most important issues in this modern city. Always dedicated to catering to the needs of our users and maximizing the usage of space resources, Flow has rolled out a brand-new service, bringing the recently burgeoning co-working spaces in HK onto our App.
(Not yet familiar with the concept of co-working space? Learn more and find out 5 best co-working spaces in HK. Or if you're planning a business travel to HK, check our customized guide for bleisure travelers in HK.)
For start-ups, self-employed people or freelancers, you can now easily find the nearest workspace and make an instant booking by the hour or the day with Flow. Apart from the flexibility with the location, you can also free yourself from the rigid monthly or yearly contracts that tie you to the same old place. Furthermore, snacks and drinks, office facilities and services are also available in most of our spaces.
Some may worry that many things, once shared, will become very hard to manage. What if there is no available seat after I get to the place? The desk I booked being too shabby? With Flow, you can trustingly dispel all these concerns. We have carried out on-the-spot inspections to our partners and ensured that the places are aptly managed and cleaned, so that our users can make the most of every booking. Moreover, working with different individuals from various professional backgrounds can help expand your net-working and provide you with valuable entrepreneurial inspirations.
The new function is easily accessible. Within simple steps, you can book your ideal workspace according to your own schedule. Displayed below are the steps to use the new function. Don't hesitate to give it a go!
1. Open the Flow App and select the space type you want to use (and we'll choose 'Work' here).
Rest: hotel rooms by the hour
Work: work desks by the hour
Meet: Meeting rooms (coming soon)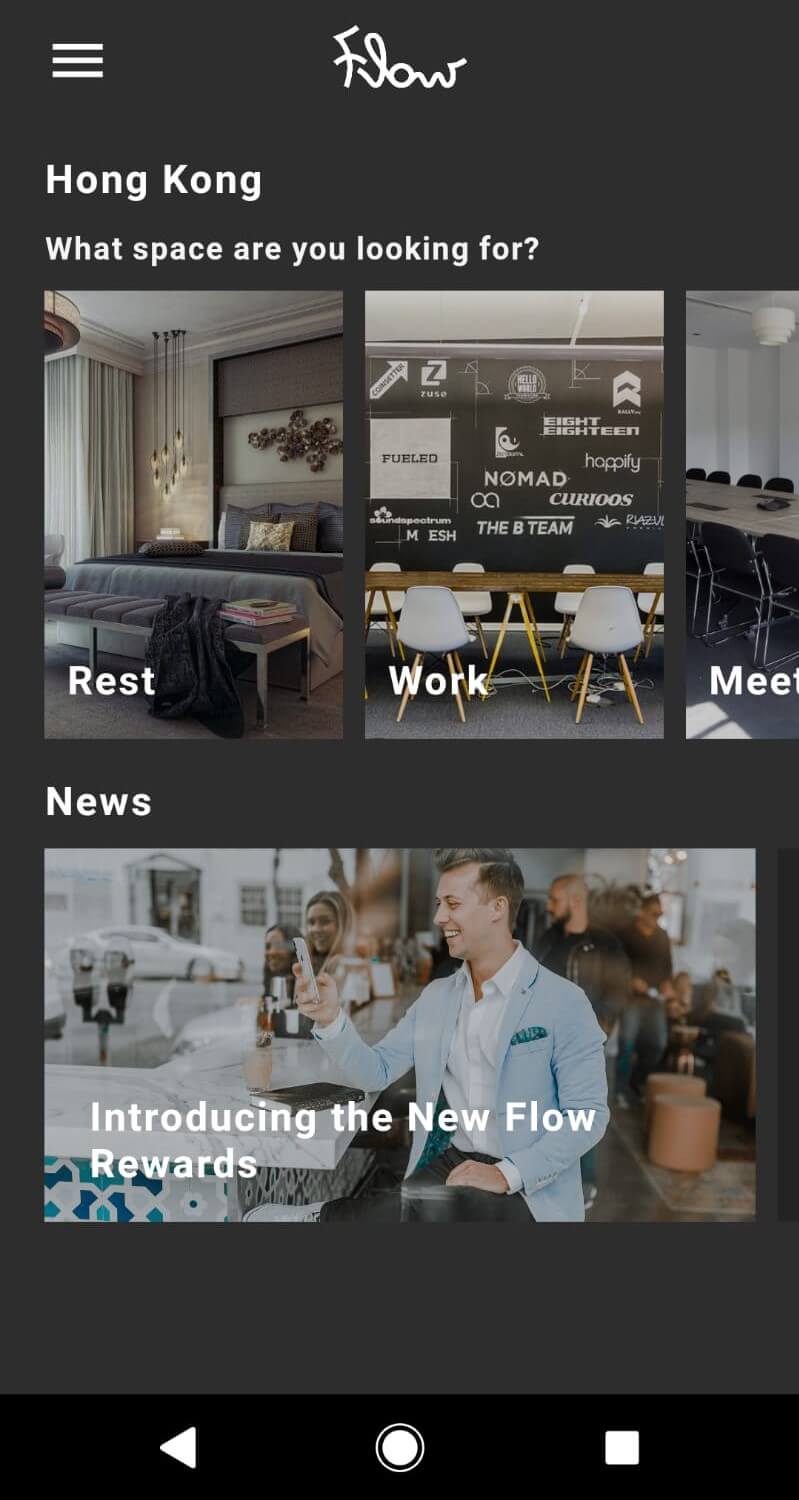 2. Choose to either book by the hour or by the day, then select the date and location.
3. If you want to book by the hour, you can then select the Start Time and End Time* of your booking.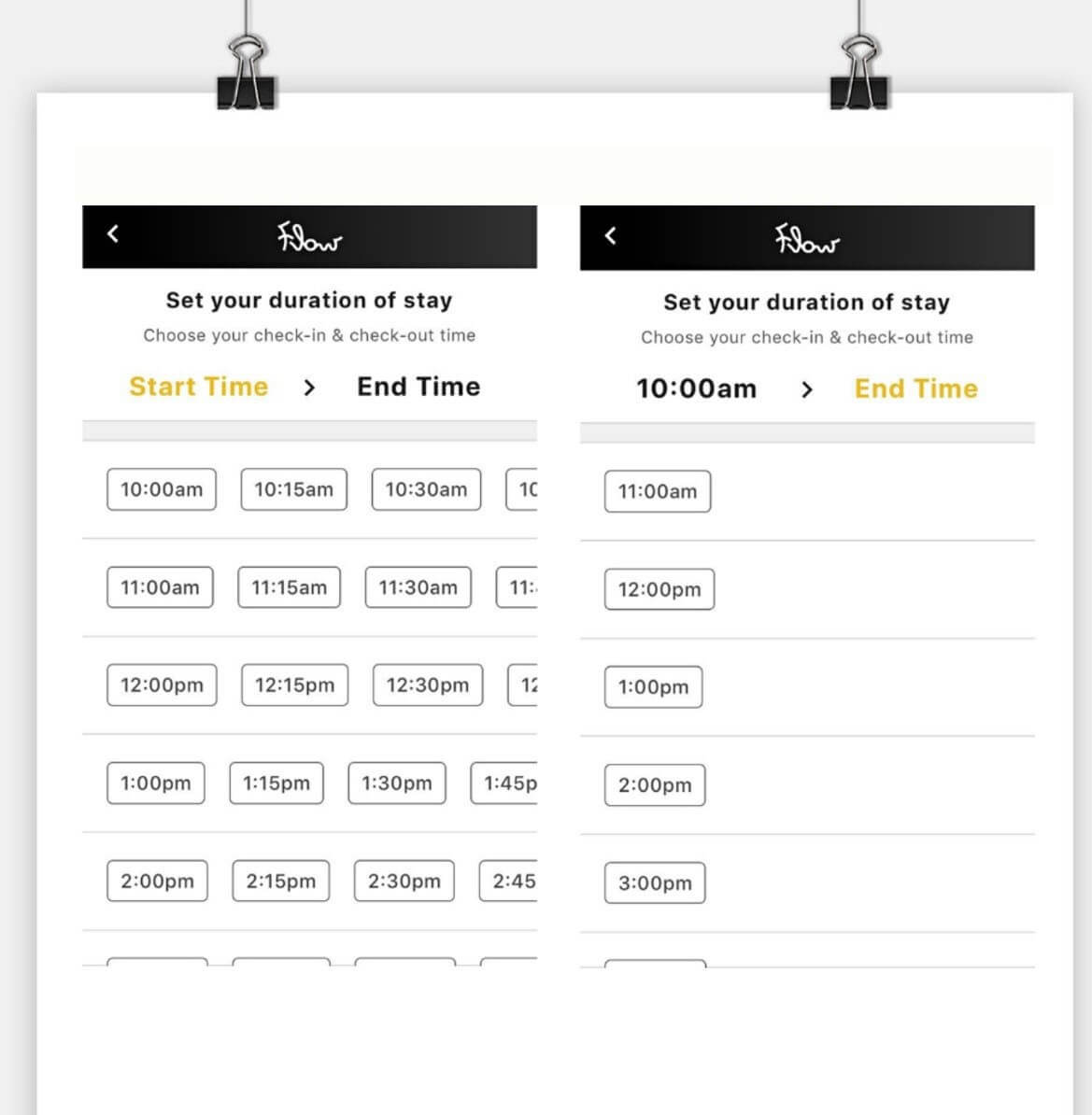 *Don't know the end time of work yet?
Not sure when your client meeting will end? Can't tell how much time you need to finish the project on hand? Sure thing! Just select "Not Decided Yet" for the End Time and pay at the full-day rate first. Upon your check-out at the counter, the extra money after the hours you've used will be refunded to your Flow Dollars account.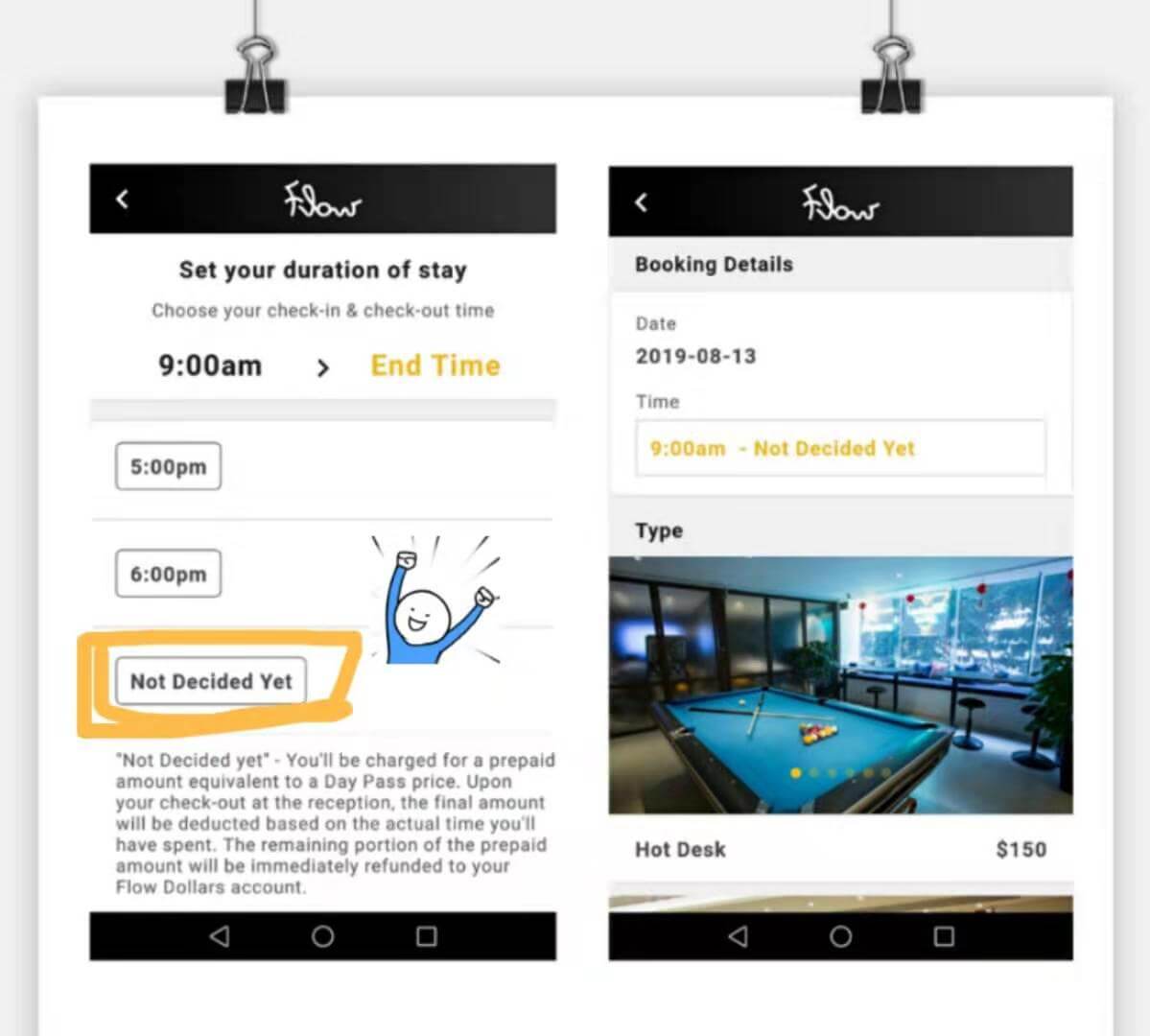 4. Check your booking details, confirm the booking and make an instant payment by card or Flow Dollars – and it's done! No need to wait and you can immediately use the space upon successful booking.
More co-working spaces all over HK are continually joining Flow. Download the Flow App now to become a Flow Rewards Member and enjoy more discounts!
— About Flow —
Flow – the "Platform for Space" where travelers can book hotels or office space by the hour or timeslot, enabling flexibility in check-in time & duration of stay.
Why book for the whole day, if you need to stay for just a few hours?
Download Flow App now (Android / iOS) and enjoy up to 75% cheaper prices.